Firefighters who have lost their homes in need after Harvey
It's estimated that 80 percent of firefighters in one department have lost their homes
---
By FireRescue1 Staff
HOUSTON — An association is requesting fire departments donate whatever they can to help firefighters who have lost their homes in Hurricane Harvey.
The State Firefighters' and Fire Marshals' Association of Texas reported that many firefighters and their families have suffered major losses in the disaster. It's estimated that 80 percent of firefighters in one department have lost their homes.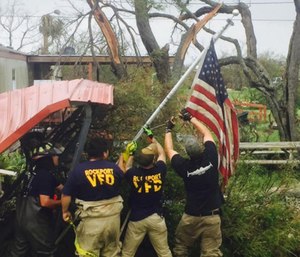 By donating here, you can help the fire departments in the impacted area, 78 percent of which are volunteer, recover financially and continue to help those in need. All proceeds will go toward an immediate relief fund.
The Texas Fire Marshal's Office is also requesting that any unused firefighter or EMS T-shirts be donated so they can be distributed specifically to firefighters, paramedics and their families in need.