Pa. dept. collects donations for flood-ravaged La., Miss. communities
One La. fire station has been completely flooded, forcing first responders to work out of a local church
---
By Amanda Christman
The Standard-Speaker
HAZELTON, Pa. — Local firefighters are accepting donations of household items to send to their brothers and sisters in the flood-ravaged south.
McAdoo Fire Chief Bob Leshko said local firefighters received a request Wednesday from a greater Hazleton native who once served with Hazle Township Fire and Rescue.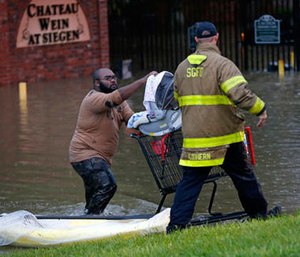 Jack Jones, who spent his lifetime helping others, was looking for help himself.
Firefighters and fire companies were not immune, Leshko said, to the floodwaters that submerged entire communities in southern Mississippi and Louisiana, destroying people's personal property, over the course of three days.
Jones, who now serves as an assistant chief with a fire company in St. Charles Parish, was looking for household items like clothing for men, women and children, cleaning supplies, dishes, cups, pots and pans.
Leshko said fire companies from greater Hazleton are collecting those items and plan to ship them to the south next week.
New and used items will be collected at the McAdoo Fire Co., 34 S. Kennedy Drive (Route 309) Friday from 4 to 6 p.m., Sunday from 1 to 3 p.m. and Monday, Tuesday and Wednesday from 5 to 7 p.m.
Volunteers will box the items up Aug. 25, and Aug. 26 they plan to ship them out.
The collection will not be for furniture or food items.
Jones, Leshko said, who's been in Louisiana for about 15 years, told him they survived through the devastation Hurricane Katrina brought but the recent flooding has hit them harder.
Jones said his community was saturated with 25 inches of rain, according to Leshko.
Their fire station is flooded, requiring first responders to work out of at a church in the area. Firefighters, Leshko said, are dealing not only with flooding at the station where they work but at home too.
The southern flooding resulted in deaths and also in tens of thousands of rescues and evacuations. Those fleeing flooded homes were forced into emergency shelters.
Baton Rouge got 19.14 inches from Aug. 10-13 and Watson got 31.39 inches during the same time frame, according to The Weather Channel. Watson, which is northeast of Baton Rouge, had more rain in those three days than Los Angeles, California had in four years, according to the Weather Channel. It reported the flooding was caused by a combination of tropical moisture and low pressure.
Copyright 2016 the Standard-Speaker