Former FEMA director to study responders' response to Irma
The report will include a detailed critique of the emergency response and other issues to identify lessons from the experience
---
By Zach Murdock
Sarasota Herald-Tribune
SARASOTA, Fla. — The former director of the Federal Emergency Management Agency and Florida's Division of Emergency Management will lead a review of Sarasota County's response to Hurricane Irma.
Craig Fugate served as top administrator of FEMA under President Barack Obama, and before that served as Florida's top emergency management official under Gov. Jeb Bush from 2001 to 2009. Before that he was Alachua County's emergency manager.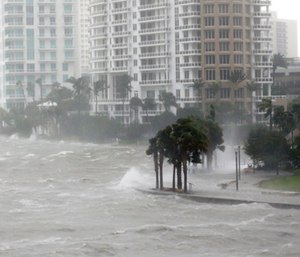 Now he will lead an independent review of how the county, school district, cities and first responders prepared for Irma and reacted following the hurricane's damaging trek up the peninsula.
The so-called "After Action Report" is expected to be completed within about 90 days and will include a detailed critique of the emergency response, shelter system and other issues to identify lessons from the experience, outgoing County Administrator Tom Harmer has said. It is being organized by the county and Gulf Coast Community and Barancik foundations.
"I think that's awesome," Sarasota County Emergency Services Director Rich Collins said of Fugate's involvement. "Obviously, somebody of Craig's stature and experience, he's been through a lot of storms. He was the state director in the '04 and '05 years, worked for President Obama as the FEMA chief.
"He brings a wealth of experience to be able to look at our processes and experiences and compare them to what he has helped direct at a federal level," he said.
Harmer, a former fire chief, and Collins have both worked with Fugate before. Last year, Fugate received the National Emergency Management Association's "Lacy E. Suiter Award" for lifetime achievement and contributions in the field of emergency management, according to a news release.
Next month Fugate will meet with the officials who led responses at every level to gauge of what officials feel went well and what they think did not. He will then take a "deep dive" into all the data and details collected throughout the emergency response to try to glean lessons about how to improve storm response.
It is critical to study the overall response to the storm because it is no substitute to simply run drills or practice runs compared to the actual challenges of 20,000 residents seeking shelter, Collins said.
Fugate will be joined by three peer reviewers to get an outside look from municipal, county and state leaders. They will be lan Harris, emergency management director for Seminole County; Manny Soto, emergency management director for Orlando, and Jonathan Lord, deputy director of the Florida Division of Emergency Management.
The peer reviewers will conduct the study without charge, but state emergency management grants will fund their travel to Sarasota, Collins said. The foundations have committed to funding fees to work with Fugate, but a final price has not been reached yet and the county could wind up contributing some funding for that, he added.
"Our community was largely spared the worst of this historic storm's effects, but having respected professionals in the field of emergency management help review the county's operations will ensure that our next response to a disaster incorporates lessons learned and leverages best practices," Harmer said. "We are excited about our partnership with the foundations and are fortunate to be able to bring the highest level of emergency management expertise to the table to help us evaluate our actions and improve upon our future responses."
Copyright 2017 Sarasota Herald-Tribune