Participate in the 2020 EMS Trend Report Survey
EMS1 and Fitch & Associates have released the 2020 EMS Trend Report Survey to identify industry challenges and opportunities
---
By Kerri Hatt
The 2020 EMS Trend Report, produced by EMS1, in partnership with Fitch & Associates and the National EMS Management Association, will provide expert analysis of five years of survey data measuring the trends shaping the future of the profession.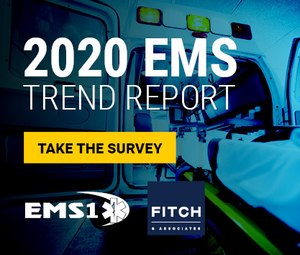 The EMS Trend Report identifies commonalities in how those who provide EMS services across all sizes and types of organizations perceive industry trends, opportunities and challenges. Identifying where provider concerns and agency priorities align and diverge provides a pathway to safety initiatives, improved patient care and career satisfaction.    
EMS personnel, from field providers and supervisors, to senior leadership and officers, educators, and EMS fellows and EMS medical directors are encouraged to participate in the survey by Feb. 15, and share it with their colleagues. Input from EMS personnel at every level, service type and response area is sought to ensure a diverse representation of the industry.  
Results, including analysis by industry leaders, will be presented at the Pinnacle EMS conference and shared in a Paramedic Chief digital edition in July, 2020.