Va. church hosts barbecue to thank first responders
The church planned on serving members of the police department, fire and emergency services
---
Cathy Jett
The Free Lance-Star, Fredericksburg, Va.
FREDERICKSBURG, Va. — "Let us thank God for food when others are hungry. Let us thank God for water when others are thirsty. Let us thank God for friends when others are alone."
The Rev. Lee Gandiya delivered that fitting grace as about 220 people began digging into barbecue Saturday evening under two big white tents erected in the parking lot of St. Paul's Episcopal Church near Dahlgren.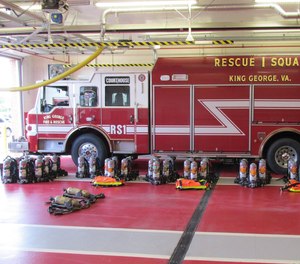 The event, a first for the church, gave the community a chance to meet and thank King George County's first responders for all that they do. So often, he said, people who've had an accident or fallen ill are at the receiving end of their care, yet the first responders who helped them are often forgotten afterward.
"The focus is on strengthening our relationships," Gandiya said. "I'm hoping that we'll do this every year, and I hope it will spread to our sister churches across the diocese and the world."
The church planned on serving about 90 members of King George's Sheriff's Office and Department of Fire, Rescue and Emergency Services and the U.S. Navy Fire Department at Dahlgren, along with 100 or more parishioners and others from the community. But it had already been an unusually busy day for first responders, and some had to turn around and leave soon after they're parked along St. Paul's Road.
"It couldn't have come at a better time," said Chief David Moody of the Department of Fire, Rescue and Emergency Services. "We've had 20 some calls in the last 12 hours."
He said that the average is 10 per day, although some days they'll get as many as a dozen.
Lt. Ryan Passera said he and some of the others working for the county's fire and rescue department arrived late because they had to respond to a call in the western end of the county first. He said it meant a lot that the church had pulled together such a special event.
"We love helping the community," he said. "We're usually with them on a bad day. It's good to meet them on an occasion like this."
Ken Juby, who serves on St. Paul's vestry, said that the church was trying to come up with new outreach ideas when he thought of hosting a barbecue for first responders. Two of his tenants, Joey McDermitt and Kelly Simpson, are first responders and he knows how hard they work.
Simpson is a dispatcher in the sheriff's office, and protocol prevents her from knowing what happens to those who call for help. She gets stressed wondering if they survived an accident or not, he said, and she often turns to McDermitt, a volunteer fireman and administrator for the fire department, for support.
Once the idea of holding a barbecue for first responders was accepted, Juby and other vestry members began calling potential sponsors. He said he was surprised by how eager they were to help. A dozen in all provided funding, including Hertenstein Investment Group and Exit Realty Expertise. Darell Hertenstein, who owns both businesses, also donated $1,000 to be awarded to the first responder with a winning raffle ticket.
"First responders do a lot for us and they're underappreciated," he said.
Juby said that when he reached out to friends to invite them to attend, one couple told him that they probably wouldn't come because they never called 911. The next day, the wife suffered a heart problem and they had to call for help.
"It totally changed their perspective," Juby said. "Sometimes you're in denial, and then you realize the importance of first responders in the community."
The church lined up Montgomery Jump and the duo of Laurie Rose Griffith and Peter Mealy to provide live music, and Boy Scout Troop 1404 to direct cars to the parking area. It also hired Rilan's BBQ to make and serve pulled pork, mac and cheese and cole slaw. Parishioners provided an array of desserts.
"This is a wonderful opportunity for the community to embrace people who are supporting us 24 hours a day," said Rilan's co-owner Christina Coates, whose brother is a firefighter and emergency medical technician in Chesapeake. "They don't really ask for recognition. Our community owes them a debt of gratitude."
Carol Sparbel, who volunteers in King George Sheriff Steve Dempsey's office, said that event was a morale booster because it showed that the community understands and appreciates what first responders do. That, she added, can include getting up in the middle of the night to answer a call in the pouring rain.
Sheriff Steve Dempsey, who is retiring in December, said that some groups have done things for his office in the past, but St. Paul's event was the largest in his during 40 years in office.
"It's an extreme act of kindness and appreciation," he said. "For a church, it's a form of ministry."
The event also gave local officials and people such as Chris Giles and Terence "T.C." Collins, who are running for Demsey's office, to meet constituents.
"This is a tight-knit community where they care about each other," Collins said. "It's a great feeling to be in King George, where they care about you."
———
©2019 The Free Lance-Star (Fredericksburg, Va.)
McClatchy-Tribune News Service