5 things to know about Randolph Mantooth
Mantooth's portrayal of Firefighter-Paramedic Johnny Gage in "Emergency!" has inspired people to pursue a career in fire and emergency services for five decades
---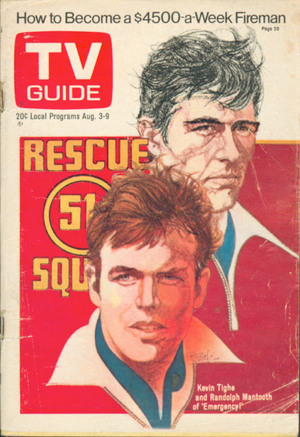 Between major television networks, cable channels and half a dozen streaming apps, you can find plenty of shows featuring the lives and careers of first responders in 2022.
But, if you go back 50 years, there was only one.
When "Emergency!" premiered on Jan. 15, 1972, America was introduced to Firefighter-Paramedics Johnny Gage, played by Randolph Mantooth; and Roy DeSoto, played by Kevin Tighe. Through six seasons, the duo inspired a generation of first responders, and a second generation through syndication.
After the final episode aired in 1977, Mantooth transitioned into different acting roles, including theater, but he is most known for his portrayal of Gage and for showing Americans what prehospital care could look like – particularly when there were only 12 paramedic units in the country when the pilot aired.
Learn more about Mantooth and what being part of the "Emergency!" crew meant to him.
1. His character, Johnny Gage, was a tribute in name
Mantooth played Firefighter-Paramedic Johnny Gage, whose name was inspired by LACoFD Battalion Chief Jim Page. In an interview, Mantooth said Page was considered to be the "father" of the Los Angeles paramedic program, even as career firefighters, including Page's boss' at the time, balked at his idea of integrating emergency medicine with the fire service.
According to Mantooth, when Page heard the show's team was going to name Mantooth's character for him, he ran down to the office and said, "Oh my God – if you do that they're gonna fire me." So, instead of Jim Page, Mantooth brought the character of Johnny Gage to life.
When Page passed in 2004, Mantooth spoke at his funeral.
2. Randolph Mantooth maintains a strong relationship with the fire and EMS community
Mantooth serves as an advocate for first responders. He is a spokesperson for the IAFF and the IAFC for firefighter health and safety, and is a lifetime member of NAEMT.
In an interview with PBS, Mantooth said, "I owe an incredible debt to firefighters, EMTs, and paramedics ... so that's a debt that no one can really pay back, but you can try. That's why it's so important for me to do what I do."
3. Mantooth remains close friends with his 'Emergency!' co-star
Mantooth shared the screen with Kevin Tighe, who starred as Gage's partner, Roy DeSoto. The two have remained close since the show ended, with Mantooth calling Tighe his best friend in a 2013 interview.
In this video, Mantooth reflects on meeting Tighe for the first time:
4. Mantooth was tapped to be a real firefighter after the show ended
Once "Emergency!" went off the air, Mantooth was approached by a Los Angeles fire chief about applying to be a firefighter, who offered to help Mantooth prepare.
"I truly had to go home and think about it, but I really enjoyed being an actor, so I decided to stay in my profession," he said in a 2015 interview with Indian Country Today.
5. Mantooth and Tighe are working on a documentary about EMS
The "Emergency!" duo are co-producing "Into the Unknown," a documentary about the work of first responders today with the goal of educating the public on the critical role of EMS.
"Over-worked, sometimes overlooked and nearly always taken for granted, paramedics are real-world heroes," Mantooth said. "My hope is that 'Into the Unknown' will provide the public with an understanding of and appreciation for the critical role these individuals play."