FDNY firefighter competes in The Rock's 'Titan Games' on NBC
Frank Sansonetti, who was on the scene at Ground Zero on 9/11, is competing against other athletes to be named a Titan
---
On Thursday night, New York Fire Department firefighter Frank Sansonetti is set to debut on NBC's "Titan Games," hosted by Dwayne "The Rock" Johnson. The series is a sports competition consisting of 10 episodes, with each episode crowning two Titans – one male and one female.
Each week, the reigning Titans will take on new competitors, producing, at the end of the series, an ultimate male and female "Titan."
At 40, Sansonetti is the oldest male competitor on the show, in a group of elite athletes.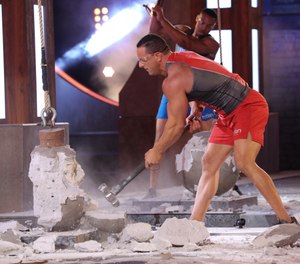 He hasn't honed his athletic build solely for television competitions, however. For more than 15 years, Sansonetti has served as a member of the FDNY, and previously served as a police officer with the NYPD.
Responding to 9/11
On Sept. 11, 2001, Sansonetti was attending the New York Police Academy when terrorists struck the World Trade Center towers. Sansonetti and his fellow cadets rushed to the scene to assist their future fellow officers.
For 24 days, Sansonetti was part of the search and rescue effort at Ground Zero.
"We got taken out, taken to the World Trade Center to help out," he said.
After serving for two years on the NYPD, Sansonetti received a call that he was selected for the New York Fire Academy, and, after completing his training, was stationed at the newly rebuilt Ladder 10 fire department across from the site of One World Trade Center, which had been crushed during 9/11.
"It's a very special firehouse," he said. "We're the face of the franchise. We're the face of the FDNY. Anybody that comes to New York, they're coming to [One] World Trade Center."
The firehouse itself is a tourist destination, as well.
"It's a great feeling," he said. "We have people that come for tours from all over the world. I can see when we pull out of the firehouse with our trucks, they start crying, or they start cheering us on. It never gets old."
Another chance at reality show success
Sansonetti is no stranger to reality competitions. In 2014, he competed and won the SyFy channel's original series, "Opposite Worlds," and was awarded $100,000.
"It's just another experience in my life that I've done, you know, being a cop, being a fireman, minor league baseball, I was on a reality show," he said. "Whatever I can do in my life to make another memory, that's what I'm gonna do."
His appearance in the "Titan Games" is especially exciting for Sansonetti's 7-year-old twins, Anthony and Madison, to see their dad compete in the competition.
"They're so excited, all their classmates. They're like mini-celebrities at school," Sansonetti said. "It's really exciting, the principal reached out to me, the assistant principal, the teachers."
For Sansonetti, however, only two people's opinions really matter: his kids.
"They get to see their father compete on TV, how many kids get to say that?" he said. "It's all about them."
Watch Sansonetti compete in the Titan Games on Thursday, Jan. 17 at 7 p.m. CST on NBC.