What's the No. 1 rule for fire safety?
Assess the structure, calculate the best means of fire attack and assess the efficacy of firefighting measures to ensure everyone goes home
---
To say that I've been out of high school for a while is an understatement. But in my freshman year, I had a teacher by the name of Patrick O'Halloran, who was also in his first year of teaching. During that adjustment year for both of us, Mr. O'Halloran on several occasions imparted three words of advice to his students that have stuck with me for a lifetime, "observe and think."
Perhaps it was that Mr. O'Halloran grew up on the south side of Chicago, or perhaps because he found that actually teaching students was different from attending college, but the wisdom of his words were meant as much to remind himself as they were for us students. The context was to stop; observe the entire situation with the senses of sight, sound, smell and touch; then make an informed and thoughtful decision when faced with potentially life changing consequences, or entering into uncharted waters. Over time, I've come to use his advice repeatedly, especially while in the fire service.
I was reminded of this quote while helping teach a class of new recruits. Most of these new firefighters had never experienced even a live burn prior to being accepted into the class, let alone responded to a serious, uncontrolled fire. In addition to imparting personal experiences that might shed light on that imminent experience, from the very beginning of class, we teach a version of observe and think to our recruits in several different ways: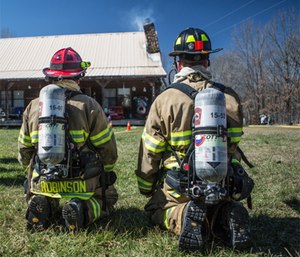 Making sure the fire attack line has water before stretching it inside;
Sounding a floor or roof with a tool before stepping off onto the building;
Looking for overhead electric wires before positioning a ladder; and
Knowing when and how to call a mayday
First responder early warning systems
Be certain that this advice to observe and think doesn't negate your sixth sense of what Navy pilots call leemers, or what others may call their instincts or gut feeling that something is wrong. These early warning systems we all possess are never to be ignored. But the rule to observe and think then processes all the information available; helps us to pick a solid, rational choice based on our training and experience; and provides the best avenue for safely mitigating the problem.
As their experience grows under the watchful eyes of their fire officers, firefighters should begin to read and understand the color of smoke to get an idea of what's burning, to know if their attack line is hitting the seat of the fire, or to look for pre-flashover conditions that indicate the need to break-up the thermal dynamics of the fire at the ceiling level and cool it back to the seat of the fire.
As officers, we further use observe and think to do a 360-degree size-up with a thermal imaging camera to gain knowledge of where the main body of fire is currently located and where it is probably heading; to see and announce the location of the utilities on the building so they can be controlled; to find a potentially easier means of access into and more importantly out of the fire building if needed; and using all they've observed to determine the initial type of attack – offensive/ interior, transitional or defensive and what is needed to safely begin the type of operations they've chosen.
As the chief or officer-in-charge, we continue to use observe and think as we constantly review the effectiveness of the fire attack by assigning subsequent responding units to tasks in support of the initial strategy. The OIC must also use benchmarks to assess if enough progress is being made on the fire in a pre-determined amount of time and, if not, to re-analyze the fire and determine what change in strategy or additional resources should be called.
The fire attack 'what if' game
No matter what rank a firefighter might be, observe and think also lends itself to the "what if" game. This is an easy way to test your observations and thinking under very little stress conditions. Take an occupancy, any occupancy that you happen to be at, and try to assess how you would attack a well-involved fire within the building. Look for any built-in fire safety features, such as sprinklers, fire alarms, exits and fire extinguishers. Depending on the arrangement of the displays, determine how you would enter and find your way out of the building in a dark smoky fire.
I played this game last week while shopping with my wife for furniture in a stand-alone triangular-shaped structure with a very disjointed display floor that emptied into a common, central entrance. My first clue that a fire inspector had played the same game was that several exit doors had been add-ons in each of the three points of the triangle that were originally designed to be dead-ends.
While probably undetected by most shoppers, the difference in the type of exit doors and a plain wall covering over ordinary drywall made it apparent that these exits had been more hastily constructed to meet the requirements of the authority having jurisdiction for customer safety.
What these doors also provided, however, were potentially better, safer entry points for fire crews by giving access to the three most remote areas of the store, and a way out should the fire unexpectedly get behind them when using the one central entrance.
Initial fire assessment
For the chief, observe and think is also making sure that on certain high hazard occupancies, each of the responding fire crews are familiar with the pre-plan and the initial assignments for these structures. Retracing the plans in your mind, looking at each potential facet from apparatus placement to multiple water supplies, can make a significant difference in the time it takes to actually put water on the fire.
Observe and think should be Rule No. 1 for your training scenarios and for safely doing the job so that everyone goes home.
Stay safe!