Tenn. firefighters save driver from car suspended 30 feet
The vehicle was caught in a tree after missing a turn and veering into an embankment
---
By Mike Christen
The Daily Herald
COLUMBIA, Tenn. — One individual was successfully extracted from a crashed vehicle Sunday as it sat suspended within a 30-foot embankment held up by only a tree.
The Columbia Fire Department responded to the scene in the 400 block of East 7th Street shortly after receiving reports that a sport utility vehicle had missed a turn, sending it down an embankment only to be caught by a tree as it traveled down the steep incline.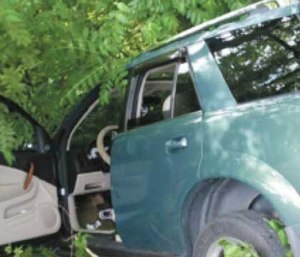 Fire Captain Jeremy Finley said the driver and three passengers were inside the vehicle as it made its way down the embankment.
Three individuals including the driver were able to extricate themselves from the vehicle and climb back up the embankment, but a passenger remained trapped in the vehicle.
Eight firefighters used a ladder to climb down the embankment and extract the remaining passenger trapped inside the vehicle, Finley said.
"It was a difficult extraction," Finley told The Daily Herald on Monday.
The extracted passenger was taken by ambulance to Maury Regional Medical Center and treated for injuries.
Finely said the extraction took a total of seven minutes from the time the firefighters arrived on scene to the time the victim was carried out to the road above.
"It was flawless," Finley said of the rescue.
Copyright 2016 The Daily Herald