Charity helps fallen firefighter's family pay mortgage
Tunnels to Towers Foundation CEO Frank Siller donated $100,000 to the family of Lt. Brad Clark to help pay their mortgage
---
HANOVER COUNTY, Va. — A charity foundation helped the family of a fallen firefighter pay the rest of their mortgage so they would not have to worry about losing their home.
WTVR reported that Tunnels to Towers CEO Frank Siller donated $100,000 to the family of Lt. Brad Clark to pay their mortgage.
"The Tunnel to Towers Foundation is taking the lead in making sure we raise the funds to pay off the mortgage," Siller said, and called upon the community to raise the rest of the money to pay the mortgage in full.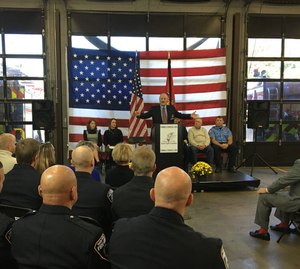 The Tunnel to Towers Foundation was started by Siller after his firefighter brother, Steven Siller, was killed on 9/11. The donation was made in Steven's name.
"With the multitude of concerns and fears that have gone through my mind over the last several days, few have been scarier to me than the thought of losing our home," Clark's wife Melanie said. "To know that our home is safe, that our girls and I will have this beautiful place with so many memories for years to come has lifted a tremendous burden off of my shoulders."
To donate to a fundraiser set up for the family, click here.