'His life was all about service': Chicago firefighter Lt. Jan Tchoryk laid to rest
"When we take an oath as firefighters, we take an oath to put others first," said IAFF President Edward Kelly
---
By Adriana Pérez
Chicago Tribune
CHICAGO —Jan Tchoryk was remembered as a jokester who knew how to fully immerse himself in the world around him. He enjoyed cigars and Johnnie Walker Scotch whisky, loved going on cross-country motorcycle rides and proudly posted photos with his "I Voted" sticker every Election Day.
These are the memories shared Thursday of the Chicago Fire Department lieutenant, who will also be remembered for his unwavering commitment to serve after he died of a heart attack last week while battling a fire in a lakefront high-rise in the Gold Coast neighborhood. The 55-year-old veteran firefighter was leading a ladder crew in a staircase trying to put out the wind-driven blaze on April 5 when he "went down," Fire Commissioner Annette Nance-Holt said at a news conference.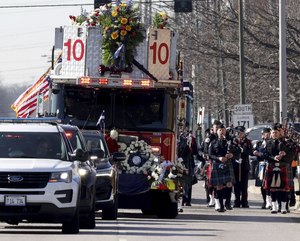 Hundreds of people gathered outside St. Joseph Ukrainian Catholic Church in Chicago Thursday morning as Tchoryk's remains were brought inside, the casket covered with an American flag. Firefighters and mourners stood at attention, paying their respects to the fallen first responder as another United States flag waved in the wind, suspended between the ladders of two fire trucks.
Inside the church, celebrants surrounded the open casket and intoned both sorrowful and hopeful hymns to begin the service, during which family, friends and peers paid tribute to Tchoryk with emotional speeches. Chicago Mayor-elect Brandon Johnson also was in attendance.
"His smile was infectious to all around him," said Laryssa Osyka, Tchoryk's niece and goddaughter. "Jan was many things. ... To many, he was also a comedian. And boy, was he a good one. From telling jokes to pulling pranks, this is the truth that remains: My uncle Johnny would have you in stitches and your abs hurting in short order."
She said Tchoryk was specially proud of his three children: a Chicago police officer, a hairstylist and a college student. His second wife, Natalia, helped Tchoryk reconnect with his culture, faith and Ukrainian heritage and language, Osyka said.
Just as he was proud of his Ukrainian heritage, however, Tchoryk was a proud American and Chicagoan, loved ones said. A Navy veteran, he served in Desert Storm during the Gulf War. After returning to Chicago, he worked for Clorox for a while before joining the academy and becoming a part of the Chicago Fire Department in 1997, where he served for the next 26 years.
Edward Kelly, general president of the International Association of Fire Fighters, presented Tchoryk's son, Chicago police Officer Dylan Tchoryk, with the Martin E. Pierce Medal of Valor, the union's highest memorial honor.
"When we take an oath as firefighters, we take an oath to put others first," Kelly said. "That sacrifice is the cornerstone of what we do ... The same oath that Jan and Jermaine lived day in and day out distinguished them as men who lived for others."
Tchoryk was the second firefighter to lose his life in the line of duty last week. Firefighter Jermaine Pelt, 49, died April 4 during a West Pullman blaze. Pelt's funeral service is scheduled for 11 a.m. Friday at the House of Hope, 752 E. 114th St.
---

Read more
'They are family': Chicago firefighters cope with unprecedented pair of deaths
"The first thing you feel is failure. We want to be able to save our brother or sister," said Chicago Firefighters Union Local 2 spokesman Patrick Quane
---
Chicago Fire Department Chaplain Bill McFarlane said that while he didn't know Tchoryk personally, a deep dive into the firefighter's Facebook page revealed some of his quirks and a bit of his personality. For instance, Tchoryk finished most of his posts with a short, optimistic message: "Be positive" or "It's my pleasure."
"I learned he was a good son, husband, father, stepfather and brother of the Chicago Fire Department," McFarlane said. "It was easy to see that his life was all about service."
McFarlane said that when he got to Tchoryk's hospital room last week, he found another firefighter sitting on the floor, "crushed and exhausted." When a fire chief told him he could take a break, the firefighter looked up and said: "I'm not going anywhere until Jan's wife gets here."
"To me, that exemplifies the spirit of the Chicago Fire Department," McFarlane said. "Because as soon as something like this happens, the apparatus of love is put into action."
Fellow fire officials and colleagues also paid tribute to Tchoryk with short but tearful speeches. Some of them knew him personally — others didn't — but they all agreed that he was a dedicated, hardworking man who brought laughter to those around him. They said his legacy won't be forgotten anytime soon.
"Every call for help that we respond to is potentially the worst day of someone's life. 'We're there when you need us' is not just our motto, it is our way of life," Nance-Holt said. "Right now, the brave members of the Chicago Fire Department and the Tchoryk family need Chicago. We need Chicago because this is one of the worst weeks of our lives."
Nance-Holt said Tchoryk heeded the call to serve until the very end, and she asked mourners to take a moment to celebrate and honor him with applause. "At times like these, we often ponder about a person's legacy. Did he or she leave this place better than they found it? Well, for Jan, the answer is yes."
Engine 4 Lt. Richard Florzcak said he couldn't have asked for a better partner than Tchoryk when he joined the firehouse a year ago. "As Jan would appreciate all your tears," he said to the crowd, "I know he loved your laughter more than anything.
"May you rest in peace, my friend," Florzcak said.
Tchoryk's family then approached the casket for a final farewell. As the service concluded, fire officials rang a bell three times, then paused before ringing it three more times, then pausing again before ringing it five times. The 3-3-5 sequence signals firefighters have returned to the firehouse after a call.
"With the sounding of this bell," Florzcak said, "Lt.-EMT Jan Tchoryk has returned home."
©2023 Chicago Tribune.
Visit chicagotribune.com.
Distributed by Tribune Content Agency, LLC.
McClatchy-Tribune News Service