Hundreds honor fallen Md. volunteer firefighter
Bagpipes played for Michael Powers nearby as Honor Guard members from the Frederick County Sheriff's Office, Maryland State Police and surrounding counties also paid their respects
---
CJ Fairfield
The Frederick News-Post, Md.
FREDERICK, Md. — Rows of career and volunteer firefighters stood guard and saluted as the flag-draped coffin made its way to the Libertytown Volunteer Fire Department firetruck. Bagpipes played nearby as Honor Guard members from the Frederick County Sheriff's Office, Maryland State Police and surrounding counties also paid their respects.
Family and friends of Michael Powers stood nearby holding back tears as his coffin was lifted atop the fire engine to be taken to his final resting place.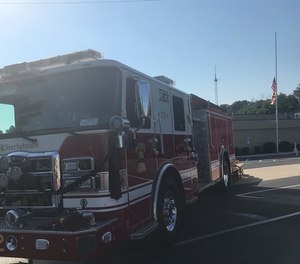 Powers died Tuesday while on the scene of a fatal vehicle crash on Liberty Road in Unionville. He had a medical injury, according to previous reports.
Powers served in the Frederick County Division of Fire and Rescue Services as a volunteer for more than 50 years, 40 of them with the Libertytown Volunteer Fire Department.
A celebration of life service for Powers was held Saturday at the fire station in Libertytown, a solemn ceremony that brought hundreds of firefighters and first responders from dozens of departments throughout Maryland and surrounding states.
Firefighter Michael Powers' funeral procession

ONE LAST RIDE: Drone footage was captured of the funeral procession for Frederick County firefighter Michael Powers, who responded to local emergencies for 50 years before dying on the job. Powers was laid to rest today. (📹: FCG TV) STORY: https://bit.ly/2RNP0GG

Posted by ABC 7 News - WJLA on Saturday, June 29, 2019
Frederick County Division of Fire and Rescue Services Chief Tom Owens spoke at Powers' service and described him as a doer in society and an active participant "in critically important work of creating and sustaining a community."
"A man who stepped up as others stepped back," he said during the service. "Michael answered that [911] call, like he always did, without concern for his own well being. He knew that a neighbor was in need."
Megan Ford, Powers' granddaughter, recalled how her dog would wait for Powers at the front window when it knew he was coming home from work. Her son would also shine the biggest smile when he saw Powers walk through the door.
Powers announced earlier this year that he was retiring from operation status with the fire department, but after two engine drivers left Libertytown, he started to respond to calls again, said Chip Jewell, president of the Libertytown Volunteer Fire Department, during the service.
Since his passing, the county has provided counseling services from the Critical Incident Stress Management Team to fellow firefighters, Jewell said. While the service is available year round, team members with CISM have periodically been on site at the Libertytown Volunteer Fire Station. The company chaplain and a confidential 800 number has also been made available.
Eric Smothers, president of the Frederick County Volunteer Fire and Rescue Association, knew Powers for 35 years.
"He was a good mentor for the younger crowd coming up," he said Friday at the viewing for Powers. "He always had a kind word to say and was always willing to help our young men, both volunteer and career, no matter which station he worked at."
Powers had a good demeanor and was great for a laugh, he added. He was never afraid to jump up when there was a need. He didn't have to be asked to do something, because he was already doing it.
"Here's a guy that was 70 years old and was still not ready to hang up his hat," Smothers said. "He was still providing service, not only to the citizens of Frederick County and the town of Libertytown, but also the state of Maryland."
During the interment at Glade Cemetery, people from a nearby neighborhood stood and watched to honor the fallen firefighter. People who never met Powers, but came to show respect for his service to the community.
After Powers' wife, Linda, was presented with her husband's firefighter's helmet and a folded American flag, a final bell rang to signal Powers' last alarm.
Right before the interment ended, Trooper 3 helicopter with Maryland State Police flew in and hovered over the cemetery for a moment. Before flying off, the helicopter dipped its nose to pay respect—its final salute to firefighter Michael Powers.
During the procession route to Glade Cemetery in Walkersville, people stood with flags to honor Powers and the service he provided to the community.
One man came from outside of Baltimore with a firefighter flag and an American flag erected from his truck to simply show respect for Powers.
George Neubauer, a former volunteer firefighter, came from Hanover, Pennsylvania.
He drove down and stood under a tree near Glade Elementary School across from the cemetery to see the procession and interment.
"It's for respect," he said. "It's a brotherhood."
———
©2019 The Frederick News-Post (Frederick, Md.)
McClatchy-Tribune News Service