Mass. city leaders offer compromise to reinstate removed thin red line flag
A new design was presented to Newton Mayor Ruthanne Fuller in a request to reinstate the commemorative flag
---
By Laura French
NEWTON, Mass. — Firefighters and local leaders in a Massachusetts city are seeking a compromise with the city's mayor to reinstate the thin red line flag that was ordered to be removed earlier this month. 
A letter from 20 Newton city councilors to Mayor Ruthanne Fuller presents a new design for the flag that the undersigned councilors believe is "noncontroversial and appropriate," according to Patch.com.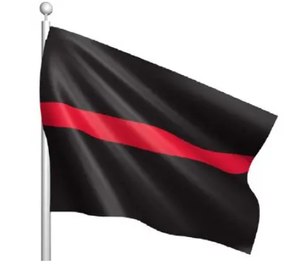 Fuller had ordered all flags other than the American and Newton flags to be removed from city buildings on June 14, sparking protests by community members who were angered by the removal of the flag meant to commemorate fallen firefighters outside the fire department's Station 4.
The Newton Firefighters Association issued a statement saying the protests were not organized by the union and that the union would not participate "based on our concern that some may seek to use this event to create controversy over the recent protests that have been taking place in the aftermath of the killing of George Floyd," but that union members appreciated the public's support. 
The union said it would take legal action against the city because the flying of the flag, which had hung outside of the station for about two-and-a-half years, was protected activity under Massachusetts collective bargaining laws. 
The letter sent from city councilors to Fuller on Friday shows a design that consists of a black background with a horizontal red line in the middle, in contrast to the previous design that featured an altered version of the American flag. The newly proposed design, which dates back to 1999, adheres to the U.S. Flag Code that states the American flag's colors should not be altered. 
Patch.com said Fuller did not respond to requests for comment as of Saturday.