Memorial Weekend recap: Reflections on our fallen brothers and sisters
The 40th annual National Fallen Firefighters Memorial Weekend honored fallen firefighters from 2019 and 2020
---
"Dedicated to the thousands of firefighters who have lost their lives in the very act of saving others" reads the plaque inscription on the National Fallen Firefighters Memorial in Emmitsburg, Maryland, dedicated by President Ronald Reagan on Oct. 4, 1981. Forty years later, we again honor the firefighter lives lost, this time on behalf of 215 families.
This weekend's memorial event recognized 169 fallen firefighters from 2019 and 2020, as last year's event was canceled due to the pandemic, plus 46 firefighters from previous years.
[Read next: Scenes from the 40th annual National Fallen Firefighters Memorial Weekend]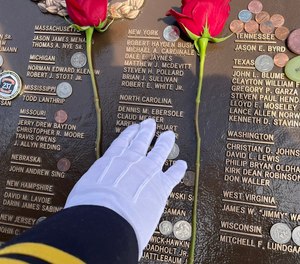 40th Annual Memorial Weekend
The National Fallen Firefighters Foundation (NFFF) uses hundreds of volunteers to coordinate the Memorial Weekend events, this year an invite-only event, with strict vaccination and mask requirements, due to COVID-19. For those who have attended previous Memorial Weekend events, the mask and general distancing requirements created an air of caution and separation that only slightly dampened the already somber tone events.
The week leading up to Memorial Weekend was equally as somber, with the Congressional flag transfer taking place at the Engine 3 fire station in the District of Columbia. The 215 flags were flown over the U.S. Capitol and the National Fallen Firefighters Memorial before being folded for presentation to family or department members at the Emmitsburg memorial service.
The hallowed grounds at the National Fallen Firefighters Memorial provide a beautiful and emotional opportunity to remember our fallen brothers and sisters. Add the sacred honor of hosting the families of our fallen heroes and the event truly feels like a pilgrimage. Families from years past return annually to assist the newest family members of fallen firefighters with the process of memorializing and grieving their loss.
It's hard to aptly capsulize the event, so I encourage each of you to consider someday making this pilgrimage on your own.
2019 and 2020 firefighter deaths
It is sometimes difficult to cull the details of the line-of-duty deaths (LODDs). Here is a general breakdown of the LODD causes, with information pulled from the NFFF remembrance book provided at the event:
57 – Cancer-related
28 – Medical conditions, not on a scene
20 – Scene-related: fire deaths, falls, stuck-by vehicles, and others
17 – Vehicle accidents en route to or returning form an incident
10 – Flight-related
7 – COVID-related [Read next: COVID-19 firefighter deaths]
2 – Training (1 medical during training, 1 wreck on way home from training).
1 – Previous back-injury IOJ
73 – Causes not indicated in the memorial book
The details of many of the individual events are stories of courage and sacrifice that provide windows of learning for us all. While you can search the entire database of firefighter fatalities from 1990 to the present at USFA Firefighter Fatalities in the United States, I wanted to provide a snapshot of this year's recognitions for our readers, pulled randomly to share a few of the brief stories:
Connecticut: James Woodman, 55, a career firefighter-paramedic with the West Haven Fire Department, was injured while administering aid in the back of a rescue truck in 1999. Woodman suffered disabling injuries when another vehicle broadsided the rescue truck. Woodman has only been on the job for two days. Spending at least 16 years in skilled nursing facilities, Woodman passed away from his injuries in 2019.
Hawaii: Eric Tetsu Hayashi, 49, a career fire equipment operator with the Hawaii Fire Department, was performing CPR on a patient when he fell ill in 2020.
Maine: Michael Bell, 68, a career captain with the Farmington Fire Rescue Department died, on the scene of a devastating propane explosion in 2019.
Michigan: Benjamin Lauren, 23, a volunteer captain with the Forsyth Township Fire Department died in a floor collapse at a residential fire. Despite being pulled by a rapid intervention crew in 7 minutes, his crushing injuries were too severe.
South Carolina: Paul Quattlebaum Jr., 46, a career engineer with the Lexington County Fire Service, was struck by a tractor-trailer while operating on the scene of a motor vehicle accident in 2019.
Tennessee: Jason Byrd, 42, a volunteer district chief with the Fayette County Fire Department suffered a heart attack while healing a ladder, after puling a 5-inch hose on the scene of a house fire.
Texas: Diana Jones, 63, a seasonal firefighter with the KL Farms/Fire LLC (Oregon-based) and volunteer with the Cresson Volunteer Fire Department, died while operating on a wildfire in California when the brush vehicle she was operating was overrun by fire in 2020.
Washington: Christian Johnson, 55, a volunteer assistant chief with the Okanogan Fire District 3, died from injuries sustained in a wildfire south of Okanogan.
Wisconsin: Mitchell Lundgaard, 36, a career engineer with the Appleton Fire Department, was shot in the chest by a patient who opened fire on officers and firefighters in 2019.
EVERYONE SHOULD GO HOME
The NFFF's 16 Firefighter Life Safety Initiatives should be our marching orders. While COVID will certainly adversely impact the 2021 firefighter LODD statistics (already at 102 and growing), we MUST learn from our history or we are surely destined to repeat it.
In reflection of the weekend's events and researching these deaths, the firefighters' sacrifices provide a window for learning and the opportunity to continue working to lower our casualties overall. Let us not diminish the circumstances of their deaths by arguing over their causes; rather, let's choose to use what we've learned to work toward everyone going home.
Recognizing that we cannot bring any of these souls back, I am reminded of these words spoken by Henry Ford: "Don't find fault, find a remedy." Let's find the remedies that we can control, and make sure we're doing everything we can to bring everyone home, every day.
---
SIDEBAR: CFSI LEAD-UP EVENTS
To maximize the window of opportunity with fire service representatives in town for the Memorial Weekend, the Congressional Fire Service Institute (CFSI) held an awards reception Friday evening in Washington, D.C. The annual spring CFSI dinner, where the awards would normally have been awarded, was canceled due to COVID.
2021 award recipients are as follows:
CFSI/Motorola Solutions Mason Lankford Fire Service Leadership Award
Assistant Chief Billy Goldfeder, Loveland-Symmes (OH) Fire Department
CFSI/IFSTA Dr. Anne W. Phillips Award for Leadership in Fire Safety Education
Don Porth, former Director of Public Education for the Portland (Oregon) Fire and Rescue Department
CFSI/NFFF Senator Paul S. Sarbanes Fire Service Safety Leadership
Fairfax County (Virginia) Fire and Rescue Department
Los Angeles Fire Department
CFSI/Masimo Excellence in Fire Service-Based EMS Award
Thornton (Colorado) Fire Department
It was an honor to attend the event recognizing each of the award honorees. It was particularly great to see Lexipol and FireRescue1 senior fire advisor Deputy Chief Billy Goldfeder recognized with the CFSI/Motorola Solutions Mason Lankford Fire Service Leadership Award for his innumerable fire service contributions, and his many years working with the FirefighterCloseCalls program, which embraces the importance of advocacy and leadership on behalf of all firefighters and emergency services personnel.