Goldfeder presented CFSI Mason Lankford Fire Service Leadership Award
The award recognizes leaders with exemplary impact on the national level in firefighter advocacy and fire prevention, mitigation and response
---
By Lexipol staff
WASHINGTON — Deputy Chief Billy Goldfeder was presented the 2021 Mason Lankford Fire Service Leadership Award from the Congressional Fire Services Institute (CFSI) on Friday.
With two granddaughters at his side, Chief Goldfeder accepted the award, which recognizes leaders with exemplary impact on the national level in firefighter advocacy and fire prevention, mitigation and response. The award is co-sponsored by Motorola Solutions with CFSI.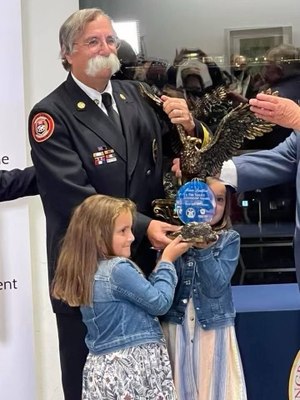 Goldfeder serves as deputy fire chief of the Loveland-Symmes (Ohio) Fire Department and is on the board of directors for the International Association of Fire Chiefs (IAFC), the September 11th Families Association and the National Fallen Firefighters Foundation (NFFF). He is also a senior fire advisor at Lexipol, an editorial advisory board member and columnist for FireRescue1, and co-host of the website FireFighterCloseCalls.com. 
Lexipol co-founder Gordon Graham nominated Goldfeder for the award, highlighting his work to make "firefighter safety and survival a central tenet of his career." Graham added that Goldfeder has educated generations of fire service students, embraced prevention alongside operations, and advocates for progress within the fire and emergency service.
Goldfeder was named the award recipient in April.
Goldfeder said that it is a true honor to receive the award: "To be considered in the same class of leaders as Mason Lankford and other fire service recipients is a privilege and a joy. My passion for fire service progress and firefighter safety remains unchanged, and I will continue to advocate for whatever makes firefighters and the community members we protect safer and more effective."
Goldfeder began his career as a firefighter in 1973 and has held chief officer positions since 1982, serving as a chief for departments in Ohio, Virginia and Florida. He is a 1992 graduate of the National Fire Academy's Executive Fire Officer Program.
Goldfeder is a frequent instructor at North American fire service training and has instructed at the FDNY Fire Officers Management Institute (FOMI). And for over a decade, he has provided strategic consulting for Lexipol's fire products and services.
"Lexipol is proud to work with such an experienced, distinguished and respected fire service leader," Lexipol CEO Chuck Corbin said. "Chief Goldfeder's expertise and insight is invaluable to our team."