Chief Billy Goldfeder named recipient of 2021 Mason Lankford Fire Service Leadership Award
The Congressional Fire Services Institute award recognizes public safety leaders who had made an exemplary impact at the national level
---
By Laura French
ARLINGTON, Va. — The Congressional Fire Services Institute (CFSI) has named Deputy Chief Billy Goldfeder the recipient of the 2021 Mason Lankford Fire Service Leadership Award. 
Goldfeder serves as deputy fire chief of the Loveland-Symmes (Ohio) Fire Department and is on the board of directors for the International Association of Fire Chiefs (IAFC), the September 11th Families Association and the National Fallen Firefighters Foundation (NFFF). He is also a senior fire advisor at Lexipol, an editorial advisory board member and columnist for FireRescue1, and co-host of the website FireFighterCloseCalls.com.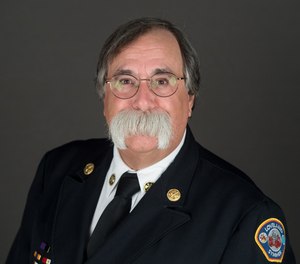 The Mason Lankford Fire Service Leadership Award recognizes individuals who have made an exemplary impact at the national level by demonstrating leadership in promoting and supporting fire/EMS and life safety issues, advocating for the readiness of fire/EMS services at any level of government, strengthening fire safety by developing and implementing fire prevention programs and/or acting as a catalyst to build consensus on issues that benefit the entire fire and emergency services community. 
The award is named in honor of the late Mason Lankford, a fire service leader from Texas who was instrumental in urging lawmakers to establish and launch the Congressional Fire Services Caucus in 1989. 
"The award is one of the highest recognitions in the fire and emergency services – if not the highest – for outstanding leadership on behalf of our nation's fire and emergency services," the Loveland Symmes Fire Department said in a statement. "Chief Goldfeder is a lifetime member of the American Fire Services and a 25 year veteran of our Department. Congratulations Billy well deserved."
Lexipol co-founder Gordon Graham, who hosts FirefighterCloseCalls.com with Chief Goldfeder, recalls how the two public safety leaders met – and shares his appreciation for Goldfeder's work over the years: "I met Chief Goldfeder in 1998 at a conference in Pennsylvania. During my talk, I mentioned the work I did on my thesis in graduate school on the importance of learning, not just from tragedies but from close calls. They are much more frequent and are devoid of consequence – so let's learn from them. After the class, I am talking to this chief I do not know at all, and instantly I could feel his passion for improving safety in the fire service. Billy did the work to make firefighterclossecalls.com a reality back then, then helped the IAFC develop firefighternearmiss.com. His direct approach to firefighter safety is so refreshing – and I am honored to know him. I know the importance of this CFSI award, and I cannot think of anyone else in the fire service who is more deserving of this honor. Thank you, Billy, for all you do to make things better."
Chief Goldfeder shared that he was beyond appreciative, not to mention overwhelmed and "quite frankly stunned": "I am so thankful to the Congressional Fire Services Institute because this honor feels pretty wonderful. I am also so thankful to my wife Teri, my kids, my beautiful grandkids, my department and certainly my boss, Chief Otto Huber, our entire crew and my partner at FirefighterCloseCalls, Gordon Graham, along with so many friends for their love and support along the way." 
Goldfeder added: "Over the last 48 years, my enthusiasm for the job has never changed regardless of the obstacles, politics or whatever, and my enthusiasm continues today. I was blessed from a very young age with a curiosity, energy and intense interest that quickly grew into a passion for the fire and emergency service. I am grateful for the ability to speak up (not always comfortable or popular), to communicate openly and from my heart, and for the countless opportunities along the way. I am continually thankful that firefighters and others are still interested in what I have to offer.
"Look, I just want to go to fires and emergencies and help firefighters, fire officers and medics to help those who need us ... and I have felt that way since 1973. I was told many times that I would burn out: nope, hasn't happened and won't. Since 1973 I have learned so many lessons from so many really good leaders in our profession -- and I have also learned from some not-so-good people as well, all experiences that have helped me stay focused on doing as much positive stuff as possible."
The award will be officially presented in Washington, D.C., this October. The award is co-sponsored by the CFSI and Motorola Solutions.
---

Watch Chief Goldfeder's What's YOUR Problem? video series
Deputy Chief Billy Goldfeder answers your burning questions about the fire service
Serious or not so serious, Deputy Chief Goldfeder offers his no-holds-barred advice in the What's YOUR Problem? video series.