Rapid Response: LACoFD shooting highlights violence, mental health issues in fire service
We train to respond to active shooter incidents but never expect it to be one of our own, in our own firehouse
---
The unfortunate reality is that some of us have faced violence in the course of this job.
I recall off-duty skirmishes that have ended tragically, yet I don't recall any scenario that involved all firefighters inside a fire station.
After this week's tragic incident in Los Angeles County, Fire Chief Daryl Osby faced the families and the cameras and said, "As fire chief, I never thought when our firefighters face danger, they would face that danger at one of our community fire stations."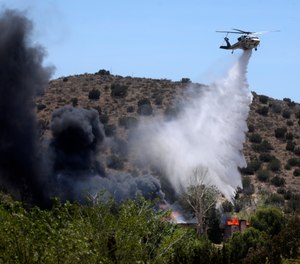 WHAT HAPPENED
On June 1, 2021, an off-duty Los Angeles County Fire Department (LACoFD) firefighter entered Fire Station 81, located approximately 45 miles north of Los Angeles, near the town of Agua Dulce, and opened fire. [Read the initial report.]
A 44-year-old fire specialist/engineer was killed. A 54-year-old fire captain was wounded and airlifted to a nearby hospital where he is currently in critical but stable condition.
The shooter then drove to a house 10 miles away and set it on fire. He was later found dead in an empty pool, having died from an apparent self-inflicted gunshot.
Chief Osby said he could not speak to the motive for the attack and doesn't know about any disciplinary actions against the shooter.
The chief described the fallen firefighter, who has not yet been identified, as "truly dedicated, one of our better firefighters and a true loss to our department."
WHY IT'S IMPORTANT 
We prepare and train for active shooter "run/hide/fight" scenarios at work – but in our own house?
How many times have we seen an angry firefighter walk through a station, and how most of us just write it off as someone having a bad day – or a bad attitude in general. With generally easy access to weapons and our members' generally trusting nature, I regrettably suspect these types of incidents are simmering just below the surface at stations across the country.
While we don't yet know anything about the shooter, we must take steps to ensure we prioritize and take seriously post-traumatic stress and general mental health and wellness. The adage, "If you see something, say something" comes to mind for advance warning signs. We must all take the time to check in with each other, ask questions and offer resources when necessary.
Does your fire department have programs in place to help your firefighters? Would you know who to call? There are many programs available to help, and many departments have robust evaluation and treatment programs.
WHAT'S NEXT
As two families plan funerals and another lays vigil over their critically injured captain, the organization begins the painful process of navigating a line-of-duty death (LODD) service, then investigation. Law enforcement has at least two scenes to comb through, and I suspect it is likely the motive will soon emerge.
While we mourn, we should all be taking steps to identify those among us who have clearly shown signs that they need help – then we need to get them that help.
RESOURCES
I encourage you to learn more about these resources that deal with mental health and wellness needs:
FireRescue1 also offers many resources, including the FireRescue1 Voices section, where firefighters can speak out about challenges they have faced, read stories from fellow firefighter to realize they are not alone in their struggles, or voice opinions about various fire service topics.
Additionally, FireRescue1 features multiple resource sections focused on PTSD and mental health:
Suicide is preventable, and if you are feeling suicidal, you must get help. Please call the National Suicide Prevention Hotline immediately 1-800-273-8255 or visit www.suicidepreventionlifeline.org to chat with a counselor.