Report: Massive Carr Fire tornado trapped, killed Calif. firefighter
A tornado with a base the size of three football fields and winds up to 165 miles an hour swept down on Jeremy Stoke in mere seconds, according to the report
---
By Kevin Fagan
San Francisco Chronicle
REDDING, Calif. — Death came in an instant. And as never seen before in California history.
The Redding firefighter who died on July 26 as the fast-growing Carr Fire hit its apex was in fact killed by a fire tornado, the most intense tornado ever in the state, according to a report The Chronicle obtained Wednesday.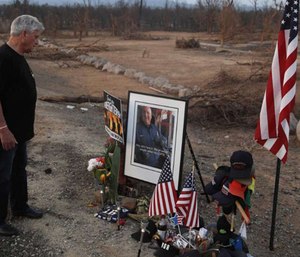 The monster tornado with a base the size of three football fields and winds up to 165 miles an hour swept down upon Jeremiah "Jeremy" Stoke in mere seconds, according to the California Department of Forestry and Fire Protection report.
At 7:39 p.m. the longtime Redding Fire Department veteran was driving his Ford F-150 truck down Buenaventura Road in northwest Redding, working on evacuating residents. One minute later he radioed out a "mayday" call saying he was getting burned over, and then his transmissions abruptly stopped, according to Cal Fire's Green Sheet, the agency's report on serious injuries and accidents.
Fire dispatchers desperately tried to find him by "pinging" his cell phone. One Cal Fire supervisor, leading evacuees as he went, drove north on Buenaventura toward where Stoke, a 37-year-old fire inspector, had been headed. There was no sign of him.
The blazes all around continued so savagely that his body wasn't located until early the next morning by Redding fire crews. He was among six firefighters killed this year as they fought or responded to California's historic wildfires. That's made this the most lethal season for fire crews since 2008.
Meanwhile, the tornado was so ferocious it pulsed with 2,700 degrees of heat. It ripped roofs off houses and flung cars, power line towers and a steel shipping container into the air — all within a half-mile of the spot where Stoke was believed to have been trapped, according to the report. The phenomenon, exploding in the middle of what was already a gigantic, devastating wildfire, was so unusual even Cal Fire investigators are still struggling to understand it.
"Observations from witnesses and other evidence suggest that either several fire tornadoes occurred at different locations and times, or one fire tornado formed and then periodically weakened and strengthened causing several separate damage areas," the report said.
Regardless of those specifics, the sight alone of the tornado that overwhelmed Stoke was awful. Several videos included in the Green Sheet show a terrifying, huge funnel dwarfing houses and fields as it shoves its swirling, flame-filled clouds high into the air. One video shows a tornado skipping along the water's surface at Keswick Dam.
Stoke was well familiar with the dangers of out-of-control wildfires. But this tornado, the report and experts say, was unlike anything experienced before in California — quick, hot, huge and unpredictable.
UC Berkeley forensics Professor George Sensabaugh told The Chronicle that given the ruthlessness of the tornado, there was probably little Stoke could have done to save himself.
"I haven't heard of anything quite like that," he said, adding that some aspects of the tornado remind him of the historic bombing in World War II that destroyed the German city of Dresden. "I can't imagine that he would have had a chance with no real advance warning."
The report says that a Cal Fire captain noticed the twister near Buenaventura, looking north from Land Park, at 7:38 p.m. One minute later was when Stoke was driving along that road, and at 7:40 p.m. was when his "mayday" call went out.
"It's pretty chilling when you look at the narrative," said Jonathan Cox, a Cal Fire battalion chief who has read the report. "How quickly this tornado went from being dangerous to being just extreme and overwhelming was astounding. It's something we've never seen before."
At the time Stoke died, the Carr Fire had already burned 29,000 acres, dozens of homes and sent thousands of people fleeing for their lives. As of Wednesday evening, the blaze had destroyed 1,077 homes and charred 214,527 acres. It was 69 percent contained.
The Green Sheet also details the death that same evening of 81-year-old contract bulldozer operator Don Ray Smith of Pollock Pines (El Dorado County), and the harrowing escapes of fire crews and other dozer operators in the area where Stoke died.
Smith was helping cut a fire line near Spring Creek Reservoir at around 5:45 p.m. when flames surrounded him, according to the report. He radioed back that he couldn't make it back to where he'd departed "because he was cut off by the fire, and he would push down instead," the report said, and between 5:46 and 5:50 p.m. he requested water drops from firefighting aircraft and said he was "attempting to make a safety zone."
Four Cal Fire helicopters began dumping water at 5:50 p.m. through heavy smoke into the location where they thought Smith was. The blaze was too intense to send in ground crews right away, the report said, and at 6:10 p.m. crew leaders told their division supervisor that Smith had been burned over.
The flames backed off enough by 7 p.m. for a crew to head down the fire line and confirm that Smith was dead.
The report does not assess blame, but it does offer cautions for the future — such as fleeing fire tornadoes upon sight.
Cox said the advice is wise, and the grief over the death of colleagues is nearly unfathomable. The probability of the future is that things will remain grim.
"It's the trend we have now — larger, more damaging fires, and more and more of them," he said. "The conditions are unrelenting."