Wis. FD creates Christmas video to support children of fallen FF
The video was made to spread awareness about a fundraiser for fallen Union Grove Yorkville Firefighter Brian Serdynski's family
---
By FireRescue1 Staff
UNION GROVE, Wis. — A Wisconsin fire department created a Christmas-themed video to spread awareness about a fundraiser for the children of a fallen firefighter.
The Union Grove Yorkville Fire Department shared the video on social media to support the three young children of Firefighter Brian Serdynski, who died in November, two weeks after having a heart attack while responding to a crash.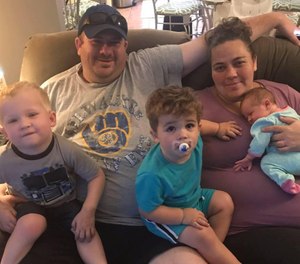 The video, created in collaboration with other first responders and community members, shows the Grinch stealing the children's Christmas presents and sneaking into the fire station to cause trouble.
"This video was done for (Serdynski's) children who will be meeting the Grinch and Santa Claus at the Union Grove Yorkville Fire Department this Sunday, and if all goes well, we will get the gifts back for Noah, Henry and Amelia," reads the video's caption.
The department encouraged viewers to donate to a GoFundMe page for Serdynski's family, which has so far reached more than $14,000 of its $20,000 goal.
Salem Lakes Fire Rescue Firefighter Michael Scornavacco, who originally posted the video to Facebook, told FireRescue1 that his employer Racine Honda funded the Christmas gifts and provided time and resources for the video. 
A second video will be shared on Sunday, when the children will help catch the Grinch and retrieve the presents, Scornavacco said.