Being a caregiver in the time of the COVID-19 pandemic
Clear communication and printed documentation are key when you cannot be with a loved one
---
My wife of 40+ years, Wilma Avsec, died on Saturday, Oct. 31, 2020, at CAMC Memorial Hospital in Charleston, West Virginia.
I had taken her there on Monday, Oct. 26, because she had been taking medicine and breathing treatments for bronchitis since the previous Thursday; however, by Monday morning, she was not getting better.
Because of the COVID-19 protocols in effect, I was unable to enter the hospital with her. I would not be able to see or be with her for the next five days.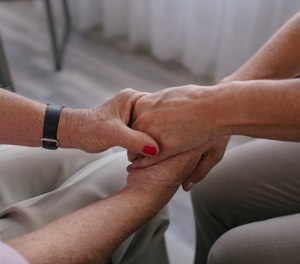 THE POWER OF THE PRINTED WORD
Doctors and nurses are very computer-dependent these days because of the documentation requirements from Medicare and medical insurance companies. They enter most of their documentation of patient care into computers and tablets; truly little gets written down.
You must actively ensure that they know that printed documentation for your loved one is in the patient care file and that everyone who has contact with your loved one knows that it is there. They rarely look at what hard-copy printed information is in the patient care file.
This is what should accompany your loved one into the hospital:
A printed medical history: My wife kept her medical history and all pertinent health information (e.g., meds, vaccinations, surgeries) in an Excel spreadsheet. She always kept a copy in her purse, and I always had the current copy on my phone. She had her copy with her that day.
My wife had an extensive medical history hospital admissions over the past 10 years, including a heart attack (2004), which was resolved with a stent, but she later passed pulmonary emboli into both of her lungs; breast cancer (2010) treated with a lumpectomy, radiation treatment and chemo therapy; a bleeding gastric ulcer (2017); surgery (with complications) to remove a damaged surgically implanted lap band; and surgery to remove a cancerous mass from her left lung (2019). And if that was not enough, she had advanced osteoarthritis of the lower spine and had just recently been diagnosed with sarcoidosis.
A printed copy of your loved one's final wishes and advanced medical directives: I knew that those documents were in CAMC's information system because I had verified it on her two previous admissions. As soon as possible, contact the nurse caring for your loved one and get them to print copies and put them in the patient care book.
I cannot emphasize this point enough: When you cannot be in the hospital with your loved one, especially if they are in distress, do not count on the doctors and nurses and other medical professionals caring for them to have this information. They are busy providing care, and any notes they scribble down likely are sparse on details.
In the ER, they diagnosed her as having pneumonia in her right lung. (Her left lung was the one that had surgery back in December 2019.) They could not resolve her difficulty breathing in the ER, so they intubated her and put her on a ventilator so that she would not have to work so hard to breathe. She was then transferred to the Surgical ICU where she would remain for her last days on this earth.
PAUSE: She DID NOT have COVID-19. They tested her in the ER, and the test was negative. Her pneumonia was caused by a much more common virus, one that many people will contact this fall and winter.
OPEN LINES OF COMMUNICATION EARLY
As soon as I knew she was transferred to the ICU, I gave the staff some time to get her squared away before calling to check on her. During those previous hospitalizations – when I was able to be with her – I gained much experience in developing relationships and lines of communication with the medical professionals caring for her. But this time, it was much different because I would have to do that by telephone.
1. Take the first step: I politely introduced myself to her doctors and nurses like this, "I'm her husband, Robert Avsec. I'm a retired firefighter/paramedic with 26 years of experience. I'm prepared to do anything to be a part of an effective team taking care of my wife."
I was never rebuffed and did, in fact, become part of that team. This is also when I verified that those previously mentioned hard-copy documents were in her patient care folder and that they had read and understood them.
2. Learn everyone's schedule: This is critical during the COVID-19 pandemic because you cannot be there. You also do not want to be that "pestering" family member who always happens to call their nurse when they are trying to take care of one of their other patients, which of course most nurses have too many to begin with.
Her day-shift nurses (7 a.m. to 7 p.m.) asked that I call between 10 a.m. and 11 a.m. for a morning status report and between 4 p.m. and 5 p.m. for an afternoon update. (When they could not speak with me, they called back when they could without fail.)
Her night shift nurses were equally accommodating. So, I called between 9 a.m. and 10 p.m. for a nightly report. Her nurses on both shifts went the extra mile in that if they were with her, or had no other patient care duties at the time, they would put the phone up to her ear so that I could speak to her.
3. Communicate with their doctors, too: Both her pulmonologist and cardiologist let me know that it was best to communicate with them after 1 p.m. daily after they finished morning rounds and documentation of patient care. How many times did I call them? Zero. Because they either called me before 1 p.m. or shortly thereafter.
WHEN THE TIME COMES FOR THE END
Fortunately, the medical team was able to remove the breathing tube on Friday morning and she was able to breathe on her own for a couple of hours before they had to fit her with a CPAP mask – a type of ventilator that doesn't require a tube. (If any of you have a breathing machine for your sleep apnea, it is the same type of machine.)
By Friday afternoon, I was able to have her tablet computer delivered to the ICU staff (CAMC was still not allowing visitors of any kind due to COVID-19 protocols). That evening, I was able to have my first face-to-face conversation with her since Monday.
By Saturday morning, however, when I called her nurse for an update, she told me that my wife was really struggling and that she did not want the CPAP machine anymore. Her nurse set up her tablet so that I could talk to her face-to-face.
As soon as she saw my face, she said, "Robert, I'm tired. I just can't do this anymore. I'm sorry."
With those words, I knew that it was time for her to leave the pain and suffering of the past 15 years – not just the last five days – behind.
I told her to let them put the CPAP mask back on and that I was on my way. I then asked her nurse to initiate their Comfort Care protocols. I shared that I would be there in 20 minutes and that I expected to have an escort to her bedside.
I am grateful that they complied with my wishes. When I arrived at her side, I knew that her time had come. We had that difficult conversation many years ago about what each of us wanted when we died. We had written those wishes down on paper (which the ICU staff had copies of), and my wife had shared those same wishes with her sisters, our daughter, our grandsons and our granddaughter-in-law.
Those last wishes: No advanced life support measures upon her request; nobody was to see her after she was gone; and that there would be no visitation or funeral service of any kind.
WE HONORED HER WISHES
I miss her greatly, and the pain in my heart is unlike anything I have ever experienced. But I take great comfort in knowing that we had made these plans well in advance and that I was able to honor her last wishes.
And because we loved each other enough to have that difficult conversation many years ago, and we shared those final wishes with everyone close to her, I know in my heart that we did the right thing. No bickering, no arguing, none of the things that happen in too many families when a loved one leaves this earth. And for that, I am extremely grateful to my West Virginia family.
And I am equally grateful for the care and compassion and empathy given to me by all the nurses and doctors who cared for my wife during her final days, especially during this COVID-19 pandemic, when doctors, nurses and all medical professionals have had to perform above and beyond the call of duty when up against overwhelming patient care needs.