Baltimore Fire: 3 children die after rowhouse fire
EMS providers transported the children and two adults to a hospital
---
By Dillon Mullan and Giacomo Bologna
Baltimore Sun
BALTIMORE — Three children died following a house fire in the Rosemont neighborhood early Saturday morning in West Baltimore.
Firefighters transported five people — two adults and the three children — from the scene of a house fire in the 3000 block of Brighton Street to a hospital, the Baltimore City Fire Department said on social media at 4:34 a.m. Less than an hour later, at 5:29 a.m., the department said the three children had died from their injuries.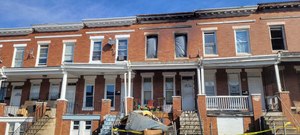 "I just saw the place burn up," said Charles Pleasant from a porch across the street. "Around three in the morning I heard the woman hollering. The lady came out running, and she was saying 'my babies, my babies, somebody get my babies.'"
Pleasant said he first heard the commotion around 2:30 or 3 a.m.
Baltimore City Fire Department Chief Roman Clark said firefighters got a woman as well as the three children, ages 1, 2 and 7, out of the house while the adult male was outside when firefighters responded.
"We rescued one adult and three children. Another male victim was outside, and we did transport him to the hospital as well," Clark said.
The woman was still in critical condition Saturday afternoon while the man had been released.
Clark declined to say whether or not the three children were related or siblings or much about the fire.
"We have investigators on scene. They are investigating the possible cause of this particular fire," Clark said. "That's pretty much all I have right now."
In a statement, Mayor Brandon Scott said he was mournful over the loss of the children and grateful for the firefighters and first responders who contained the blaze.
"I am heartbroken to learn about the tragic fire that claimed the lives of a family in our community last night. Losing a loved one is a devastating experience, and my thoughts and prayers go out to the family and friends who are grieving this terrible loss," Scott said. "To the family and friends of those who perished in this fire, please know that our entire community is here to support you. We stand with you in your grief and offer our deepest condolences."
REPORT OF PEOPLE TRAPPED: Incident audio
City Councilor John Bullock, who represents the area, said he spoke with Clark on Saturday.
"It's a heartbreaking situation for the family and the surrounding community. The top concern is really for those that have been hurt, and also we have to think about what happens next in the neighborhood," Bullock said. "This really shows the importance of fire safety in our communities — having working smoke detectors and carbon monoxide detectors and having an exit plan. Our fire department does a good job of doing neighborhood sweeps, but we need to do more of that to make sure folks have smoke detector and carbon monoxide detectors."
The property had received four citations from the city — two in May 2022 and two this past January — for trash that accumulated in and around the property. Two houses directly east of the property are listed as vacant and abandoned in city records.
Maria Bailey, who operates a day care out of her home a few doors down, said the commotion woke her up.
"There were three fire trucks, police officers and ambulances. I heard them and looked out," Bailey said. "The family was very friendly. If you asked them to try to help you out, they'd help you out."
Children's toys and a family photo were part of a debris pile in the front yard of the rowhouse late Saturday morning.
"I saw them yesterday out there playing tag in front, two of them about that tall," neighbor Jerome Tuggle said, lowering his hand around his knee.
"I've lived here since July. This is the first incident," he said. "It's normally pretty quiet around here."
———
©2023 Baltimore Sun.
Visit baltimoresun.com.
Distributed by Tribune Content Agency, LLC.
McClatchy-Tribune News Service