Firefighter, dozer operator dead as wildfire rips through Calif. town
The Carr Fire exploded in intensity after it jumped the Sacramento River, killing one firefighter and a private bulldozer operator and forcing residents to flee
---
UPDATE: (3:11 p.m. CST) -
REDDING, Calif. — Officials announced that Fire Inspector Jeremy Stoke was the firefighter who died while battling the Carr Fire. 
With heavy hearts we announce the passing of Fire Inspector Jeremy Stoke. Jeremy died while battling the Carr Fire. We ask for your thoughts and prayers for his family and the RFD as we process this tragic loss. More information will be released as it becomes available. pic.twitter.com/3adHIkDepV

— Redding Firefighters (@reddingff_1934) July 27, 2018
EARLIER: 
Alene Tchekmedyian and Joseph Serna
Los Angeles Times
REDDING, Calif. — A destructive wildfire in far Northern California nearly doubled in size overnight, killing at least two people — including a city firefighter — and burning numerous homes in Redding as residents ran for their lives and firefighters found it impossible to battle the wall of flames.
The Carr fire has destroyed 65 homes and damaged 55 others, the California Department of Forestry and Fire Protection said Friday, Those numbers are expected to rise.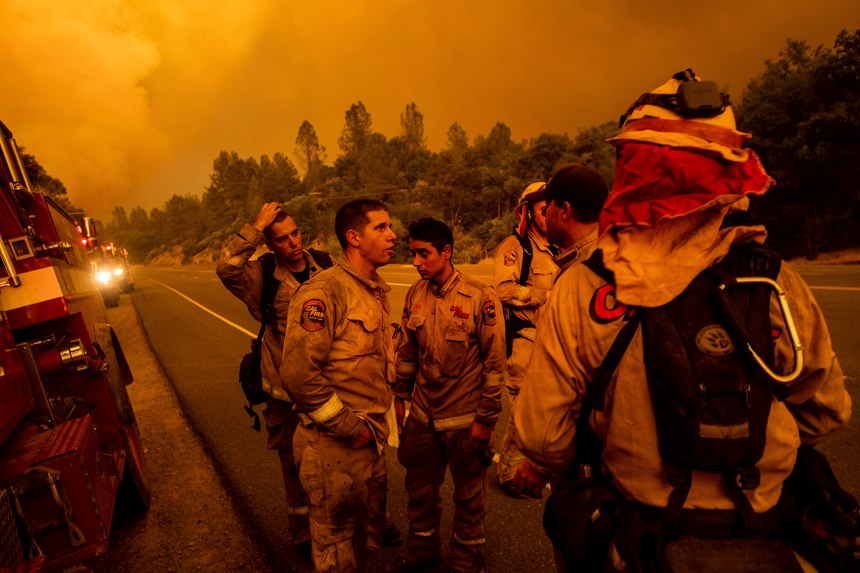 The blaze, driven east by 30 mph winds, hopscotched into subdivisions Thursday night and Friday morning. Officials said hundreds of homes were threatened as winds pushed the fire into the community.
It was a chaotic scene across Redding, a city of 90,000 people about 100 miles from the Oregon border, as towering flames whipped along the horizon and evacuation orders expanded by the hour in the middle of the night.
Rick Plummer, director of marketing for Dignity Health's Mercy Medical Center in Redding, said he left the Carr fire command post about 11 p.m. Thursday and arrived home to find a wall of flames a half-mile away and closing in. He was told to pack up and leave and spent the night on an air mattress in his office, he said. It was the first time he's experienced an evacuation order.
"You hear about it and people that have gone through it, but until you've gone through it yourself, I don't think you can 100% appreciate walking through your home and deciding what to take and what not to take," Plummer said, his voice cracking with emotion. "I started packing my jeep up with things I can't replace."
Plummer said he watched doctors, nurses and hospital administrators work through the night even as they got word their own homes had burned.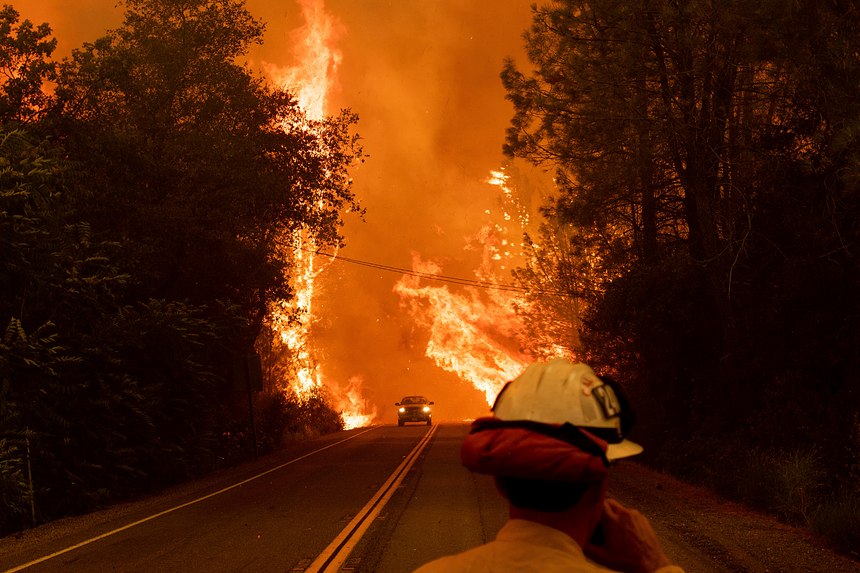 Residents had little warning before the flames moved in. Officials said some civilians and firefighters were injured, but few details were provided.
"This fire is extremely dangerous and moving with no regard for what's in its path," said incident Cmdr. Bret Gouvea with the California Department of Forestry and Fire Protection.
LIVE IMAGES: These are live pictures of #Redding, where a second firefighter has just died battling the #CarrFire. https://tinyurl.com/ybxo3zfc

Posted by KRON 4 News on Friday, July 27, 2018
The blaze had grown to 44,450 acres and was 3% contained Friday morning, Cal Fire said.
The fire made a serious push toward homes on Wednesday night, when winds steered it down to the edge of Whiskeytown Lake. A second night of dry, powerful winds pushed flames over the Sacramento River into western Redding and north toward the city of Shasta Lake.
Mercy Medical Center has spent the last day preparing to evacuate, Plummer said. Five babies in the neonatal intensive care unit were taken to hospitals in Davis and Sacramento as a precaution, and strike teams of ambulances are on standby.
As of Friday morning, the hospital was still open and treating patients. Several civilians and firefighters were treated for burns there Thursday night, Plummer said.
A Redding television station, KRCR, cut off its live coverage so anchors and other employees could evacuate the studio.
"The fire is extremely active tonight," Cal Fire Capt. John Clingingsmith Jr. said Thursday.
Residents also reported sporadic power outages, including at the Redding Record Searchlight newspaper, as well as jammed roads as people streamed out of the fire zone.
"It's crazy. It's out of control," California Highway Patrol Sgt. Tim Hinkson said in a Facebook video as he evacuated residents Thursday.
A private bulldozer operator, who was not named, was killed late Thursday as the fire grew and roared toward Redding. It was the second firefighting death in California in recent weeks. Braden Varney, a bulldozer operator with Cal Fire, died fighting the Ferguson fire near Yosemite.
On Friday, authorities announced another firefighter was killed battling the Redding blaze.
"As we mourn the loss, we also battle a fire that is moving extremely quickly and erratically into western Redding," Gouvea said, adding that other firefighters and civilians have been injured.
The devastation in Redding extends a grim period of fires in California. Last fall, Northern California's wine country was hit by the most destructive fires on record, destroying thousands of homes and killing dozens of residents. In December, the Thomas fire tore through Ventura and Santa Barbara counties, becoming the largest single fire in state history.
Officials said there was little firefighters could do as the Carr fire swept into Redding amid triple-digit temperatures and strong winds.
"Structures are burning," Cal Fire spokesman Scott McLean told the Sacramento Bee late Thursday. "The fire is moving so fast that law enforcement is doing evacuations as fast as we can. There have been some injuries to civilians and firefighters."
As fire activity increased early Friday morning, authorities expanded evacuation orders to include the following areas:
The Shasta Dam Visitor Center
All of Shasta Dam Boulevard
All of the city of Shasta Lake and Summit City
Pine Grove Avenue north on Lake Boulevard to Shasta Dam, incorporating Summit City, North Belt Line and Flannigan Road
Intersection of Placer Road and Buenaventura Boulevard, west to Thompson Lane
Buenaventura Boulevard from Placer Road to Westside Road
Westside Road to Keyon Drive, incorporating County Heights and the West Redding neighborhood
Buenaventura Boulevard to State Route 299 to Placer Road
Placer Road from Buenaventura Boulevard to Placer Road
Cloverdale Road from Placer Road to Clear Creek Road
Clear Creek Road west from Cloverdale Road to Honey Bee Road
North of Sacramento River to Keswick Dam Road, west of Market Street and Lake Boulevard to Keswick Dam
North at Lake Boulevard and Oasis Road to Pine Grove Avenue and Walker Mine Road, west of Cascade Road and Interstate 5
South along Swasey Drive from State Route 299 to Placer Road
West along Placer Road from Swasey to Prospect Drive
North from Prospect Drive to encompass Middle Park Ranch Land area
West of Overhill Drive and north of State Route 299
North of State Route 299 and west of Spinmaker Road to the end of Harlan Drive
Keswick Dam east to Counter Lane and north to Quartz Hill Road
An evacuation center at Shasta High School was closed and a new one was opened at Shasta College at 11555 Old Oregon Trail. Additional centers were opened at Weaverville Elementary School at 32010 State Route 3 in Weaverville, and Cross Point Community Church at 2960 Hartnell Ave. in Redding.
Rolling Hills Casino, south of Redding in Corning, said on Facebook that it had opened its facilities to people displaced by the fire, as well as their pets.
Firefighting efforts were hampered Thursday by extreme fire behavior, dry weather and high temperatures. It's unclear whether the destroyed structures were homes, according to the California Department of Forestry and Fire Protection. Five other structures were damaged.
Crews scrambled when a shift in the winds pushed the Carr fire three miles east in four hours, catching residents in Whiskeytown on their heels. The fire, which broke out Monday afternoon, was only 6% contained Thursday night, but by Friday morning the burn area had nearly doubled and the containment had shrunk to 3%.
The blaze reached the edge of Whiskeytown Lake, where local news outlets reported that 40 boats were burned, along with a number of homes.
Authorities placed 192 homes under mandatory evacuation orders, most of those in Whiskeytown and the community of French Gulch, Cal Fire said.
Stay safe Redding friends.

The #CarrFire is absolutely horrifying. It's just jumped the Sacramento River and now is burning in my hometown. It's 6% contained. The flames are strong enough that it's generating it's own wind and tomorrow is going to be 113 degrees. pic.twitter.com/8EOtArENEX

— Air Budz (@colbydroscher) July 27, 2018
The blaze has been running along the north side of Highway 299 since a vehicle malfunction sparked it. More than 1,700 firefighters were battling the blaze.
The Carr fire is the most destructive of several major blazes burning around the state. In Riverside County, the Cranston fire — easily spotted by the billowy plumes of smoke expanding into the sky — had burned 7,500 acres and was 5% contained Thursday night. At least five homes have been lost in that fire.
Near Yosemite, the Ferguson fire continues to burn in wilderness areas.
———
©2018 the Los Angeles Times