London police: Final Grenfell Tower fire death toll is 71
Police said the final two victims were identified this week and they are confident no one remains missing
---
Associated Press
LONDON — London police on Thursday gave a final death toll for the Grenfell Tower high-rise fire, putting the number killed at 71 including a stillborn baby.
The Metropolitan Police force said the final two victims were identified this week and they are confident no one remains missing. The youngest victim was a premature baby who died at birth to a woman who was hospitalized with smoke injuries from the blaze.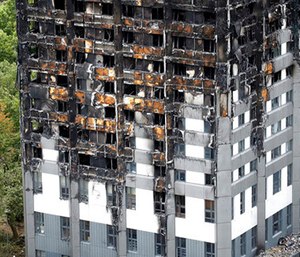 Police say 223 people escaped the June 14 fire that ravaged the building.
For months, police have estimated that about 80 people died in the fire, which began in a refrigerator in an apartment before racing through the 24-story tower. There has been frustration among survivors at how long it has taken to identify the victims and determine the final toll.
Police say the extreme heat in the burned-out apartments had made identification a challenge.
Police Commander Stuart Cundy said Thursday that specialist teams of police, forensic anthropologists, archaeologists and dental experts "have pushed the boundaries of what was scientifically possible to identify people."
"After the fire was finally put out I entered Grenfell Tower and was genuinely concerned that due to the intensity and duration of the fire, that we may not find, recover and then identify all those who died," he said. "I know that each and every member of the team has done absolutely all they can to make this possible."
Police say they are considering individual and corporate manslaughter charges over the fire.
A public inquiry has begun to find out how a small fire was able to spread so quickly, becoming Britain's deadliest blaze in decades.