Firefighter's widow: Driver 'took half of my heart' after crash
Capt. Peter Hacking and his two children were killed in a head-on crash; the driver, who was in Texas illegally, was arrested for manslaughter
---
NEVADA, Texas — The widow of a volunteer firefighter spoke out for the first time about the crash that killed her husband and two children.
CBS DFW reported that Capt. Peter Hacking, with the Nevada Volunteer Fire Department, and his two children, 4-year-old Ellie and 22-month-old Grayson, were killed after a car swerved and collided with their vehicle. Courtney Hacking said she found out about the crash while teaching at a nearby school.
"The principal came over the intercom and told us to avoid 78, that there's a really bad accident," Hacking said. "I got a call from the fire department chaplain."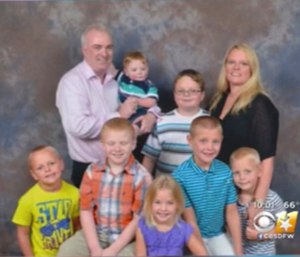 Driver Marguerito Quintero said he was tired from roofing work when his van hit Capt. Hacking's car head-on.
"This is something that in my opinion was avoidable," Hacking said. "That man took half of my heart that day that I will never get back."
Quintero was arrested for manslaughter, but lawmakers are calling for a federal investigation and immigration hold because he was in Texas illegally and even deported once.
"A little girl who was a wonderful big sister, a little boy who never got a chance to grow up and a man who gave more than anyone I've ever seen give before," Hacking about her loss. "Not a day goes by that I don't hope I'm going to wake up from a really bad dream."
A memorial fund was set up in Hacking's name for his wife and five remaining children.