Junior firefighter, 17, killed in 2-vehicle collision
In Michael Zier's honor, firefighters put a thin red line across their engine, hung up a wreath and put his gear out on display
---
By Madasyn Czebiniak
The Pittsburgh Tribune-Review
PLUM, Pa. — A happy-go-lucky junior firefighter from Tarentum had been on his way home to meet his friends on Sunday night when he and his girlfriend's mother were killed in a two-vehicle collision in Plum.
Michael Zier, 17, had been riding in an SUV with his girlfriend and her mother, Beth Ann Beveridge, when a car crossed the center line and struck their vehicle head-on, police said. The accident took place on Route 286, also known as Golden Mile Highway.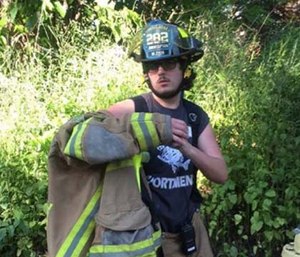 Beveridge, 43, of Tarentum, died at the scene, Plum police Chief Jeff Armstrong said. Beveridge's 19-year-old daughter, whose name has not been released, survived and was taken to Forbes Hospital in Monroeville. Her condition was not released.
Zier's friend, Austin Conaway, had been waiting for Zier at Zier's house when the incident happened. He texted Zier around 10:15 p.m., asking what he was doing: "wyd hauss?" Zier didn't reply.
Conaway eventually thought Zier had stood him up, and left. He said he didn't find out about the crash until a friend got a phone call and told Conaway check Facebook.
A post from Zier's girlfriend read: "Heaven gained two beautiful angels. Mikey Zier I love you so much I'm so sorry this happened. Beth Beveridge I love you so much. You were such an amazing momma. Rest In Peace my two beautiful angels."
"That's how I found out," Conaway said.
Conaway said he went back to Zier's house and then to the hospital, where he spoke with Zier's girlfriend. She told him what happened.
"They were just coming along, he was coming out of an intersection, and he was turning — they just went smack head on right into each other," Conaway said. "No one was wearing their seat belt."
The other driver, a 25-year-old man, was traveling alone. He also was taken to Forbes Hospital, Armstrong said.
Armstrong said there are no indications that speed or alcohol were factors in the crash. He said distracted driving possibly played a role, but declined to elaborate.
"That will have to be investigated further," he said.
Allegheny County Police determined that the man driving the car was at fault and said the investigation is ongoing.
"At the conclusion the District Attorney's office will determine what charges will be filed," county police said in a news release.
Conaway said Zier, who was going into his senior year at Highlands High School, also attended Forbes Road Career & Technology Center in Monroeville, where he was studying diesel technology.
"He just liked trucks," Conaway said.
Paula Conaway, Austin's mom, said the two of them were often seen tinkering with vehicles. She said Zier, who used to refer to her as "Mama Conaway," was someone you could never stay mad at.
"He was just a sweetheart," Conaway said.
Zier was also a junior firefighter with Summit Hose, a Tarentum volunteer fire company. In his honor, the company put a thin red line across its engine, hung up a wreath, and put his gear out on display, Assistant Fire Chief Tarek Masaoud said.
The company posted an emotional status to its Facebook page Monday morning; friends also were posting their shock and condolences via Facebook pages; and surrounding fire companies, too, extended their sympathies to Zier's family and to Summit Hose.
"Rest easy brother and watch down on us all when that whistle blows," the Summit Hose post says, in part.
Masaoud said Zier became the junior firefighter captain about two years ago. He was always joking around and laughing, but knew when the whistle blew that it was time to get serious.
He said the younger firefighter was always there to help. He attended fundraisers, responded to every fire call that he could, and was a role model for the other junior firemen.
"He was a good kid," Masaoud said.
Copyright 2017 The Pittsburgh Tribune