Officials: Striking similarities between 2 fatal Oakland fires
The building had been the target of 20 complaints to the city building department over the past 10 years
---
By Paul Elias and Janie Har
Associated Press
OAKLAND, Calif. — The similarities between two deadly Oakland fires that occurred nearly four months apart are striking: Each involved a dangerously dilapidated building with an absentee landlord and renters desperate for affordable housing in the expensive San Francisco Bay Area.
The fire Monday at a building for recovering addicts and people who had been homeless occurred despite promises by city officials to crack down on substandard housing after 36 partygoers died in December at a warehouse known as the Ghost Ship that had been illegally converted into live and work spaces for artists.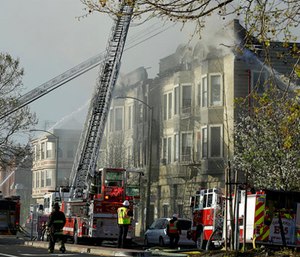 "Both buildings were incredibly problematic and had a lot of legal issues," Mayor Libby Schaaf said Tuesday.
Four people died in the latest fire, which occurred three days after city building inspectors found multiple fire code violations, including inoperable sprinklers and alarms, at the building that housed about 80 people.
Officials also noted a lack of fire extinguishers and overloaded electrical cords during the inspection that was prompted by a referral from firefighters who responded to an unspecified call in February. The owner was given 30 days to correct the problems.
Authorities have not determined a cause for the spectacular blaze that lit up the night sky. Firefighters made a number of dramatic rescues and initially believed only one person had perished.
The number grew to four and authorities so far have identified two victims: Cassandra Robertson, 50, and Edwarn Anderson, 64.
The building, where many residents did not have their own kitchens, had been the target of 20 complaints to the city building department over the past 10 years. One involved a floor that was caving in because of badly leaking pipes. Others in the last year cited broken smoke detectors and no heat.
Residents described a filthy place where maintenance was neglected and trash piled up.
"It was a rough place to live," said 26-year-old Ruben Deon Mitchell Jr. "There was a lot of trash and noise."
Kirsten Evans, 52, said she paid $1,100 a month for a small studio without a kitchen. She moved in three years ago after she was evicted from an apartment where her landlord planned to dramatically raise her rent.
The building's owner, Keith Kim, and his attorney did not respond to repeated calls requesting comment.
Kim owns numerous properties in the San Francisco Bay Area but had largely turned over management of the building that burned to Urojas Community Center, run by Pastor Jasper Lowery.
Residents were caught in the middle of a dispute between Kim and the center after Kim sought to evict Urojas in the wake of the Ghost Ship fire.
Lowery did not respond to requests for comment Tuesday.
The building is supposed to be inspected annually, but the city didn't provide any documents showing whether fire marshals had been there before Friday. The East Bay Times reported that officials appear to have inspected it in 2015 with an unspecified outcome.
The Ghost Ship warehouse that burned Dec. 2 also was the target of public safety warnings in the months before the fire.
City records show its residents relied on makeshift electrical hookups while visitors and neighbors lodged numerous complaints of unsafe conditions.
Records showed that city inspectors had knocked on the warehouse door a few times, but none had stepped inside for at least 30 years.
Days after the Ghost Ship fire, the mayor vowed to streamline communications to keep buildings such as the Ghost Ship from slipping through the cracks when problems are reported.
Schaaf told The Associated Press that those internal communications appear to have improved.
She said firefighters answering a call in February at the building that burned Monday had reported possible problems. That prompted the inspection on Friday that flagged numerous safety violations.
She said city officials lacked the authority to immediately shutter the apartments and were required to give the owner time to fix the problems.
Embattled Fire Chief Teresa Deloach Reed, whose department was criticized for failing to conduct annual inspections of the warehouse as required by law, has announced she is retiring May 5.
The cause of that fire has yet to be determined.