State lawmakers grapple with fatal Ghost Ship fire
Oakland officials said the city's fire and building department officials failed to inspect the warehouse despite complaints from neighbors
---
By Paul Elias
Associated Press
SAN FRANCISCO — California state lawmakers said they are grappling with a growing public safety problem in cities where financially struggling artists are illegally converting warehouses into housing and entertainment venues.
The Senate Governance and Finance Committee meeting Wednesday in Sacramento was the first time state lawmakers have formally considered the issue since the Dec. 2 fire at the so-called Ghost Ship warehouse killed 36 in Oakland during a music concert.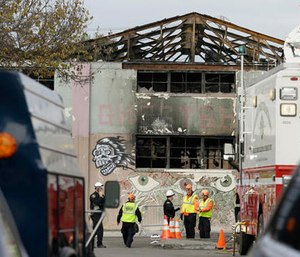 Artists say high rents in the San Francisco Bay Area and Southern California have driven them to lease warehouses in industrial areas not zoned for residential and entertainment uses. The Ghost Ship warehouse was not permitted for entertainment or a residence, though artists lived there and often put on public performances.
"We have been struggling to identify the answers," said Democratic state Sen. Nancy Skinner, of Berkeley, who represents the neighborhood where the Ghost Ship was located.
Oakland assistant city manager Claudia Cappio said city officials have flagged 15 buildings for closer inspections for possible code violations since the fire. City officials across the state have also reported receiving an increase of public complaints about warehouses possibly being used illegally for living and working spaces.
Oakland officials said the city's fire and building department officials failed to inspect the warehouse despite complaints from neighbors about the building in the months before the fire.
The fire department is still investigating and has not determined a cause. Embattled fire chief Teresa Deloach Reed, 59, announced Tuesday she would retire on May 5.
The father of one of the warehouse fire victims called for zoning law reforms and financial support of artists, who he said are driven to live and work in dangerous buildings because of high urban rents.
Edwin Bernbaum's 34-year-old son, Jonathan Bernbaum, lived a few blocks from the so-called Ghost Ship warehouse and was a video artist when he died.
"Soaring rents and housing costs are driving people into places like the Ghost Ship," Bernbaum said.
Bernbaum said he is working with a San Francisco nonprofit group and soliciting contributions from large corporations to help financially struggling Bay Area artists find safe places to live and work.
Other officials who testified said current codes and regulations are adequate and improving public safety and preventing another Ghost Ship tragedy comes down to stricter enforcement.
"No more laws are needed, the fire code is very comprehensive," said Long Beach Fire Chief Michael DuRee, who is also president of the California Fire Chiefs Association. "It's just a matter of enforcing existing laws."
Committee chairman Mike McGuire, D-Healdsburg, said he's creating a legislative group to study the issue and report back to the Senate Governance and Finance Committee later this year.