Mayor chooses new FDNY commissioner
Daniel Nigro, who helped rebuild the city's fire department after the Sept. 11 terrorist attacks, will lead the FDNY
---
The Associated Press
NEW YORK — A retired fire officer who helped rebuild the city's fire department after the Sept. 11 terrorist attacks will be named the its new commissioner, according to two officials briefed on Mayor Bill de Blasio's decision.
Daniel Nigro will be appointed Friday during a ceremony at the Fire Department of New York Academy, said the officials, who weren't permitted to comment publicly before the mayor's announcement and spoke on the condition of anonymity.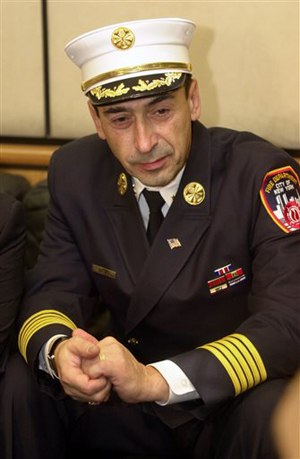 Nigro was named chief of department, the highest-ranking uniformed position in the FDNY, after the 2001 attacks. The previous chief of department, Peter Ganci, died in the World Trade Center collapse.
The terror attacks killed 343 firefighters, and hundreds more retired in the months that followed, forcing the nation's largest fire department to rebuild its ranks even as it revamped its training protocols to prepare to respond to future terror incidents.
While a fire chief, Nigro oversaw the 1996 merger between the FDNY, which has about 10,000 uniformedfirefighters, and the city's ambulance services. One of the officials said this experience was part of de Blasio's reasoning in naming him, since the number of medical emergencies the FDNY responds to each year has been increasing even as the number of serious fires has steadily declined.
Nigro retired in 2002. He could not immediately be reached for comment Thursday. The FDNY declined to comment on the choice.
Uniformed Firefighters Association president Steve Cassidy was supportive of Nigro's appointment.
"Danny Nigro has the experience necessary to lead the FDNY into the future," he said Thursday.
Nigro will replace Salvatore Cassano, a highly decorated career fire officer who had served as FDNY commissioner since 2010. Cassano, like Nigro, was at the World Trade Center in the moments after the hijacked planes struck and had to scramble for safety when the twin towers collapsed.
A pressing matter for Nigro will be to work to integrate the FDNY, whose members are nearly all male and nearly 90 percent white.
In March, the de Blasio administration agreed to pay $98 million in back pay and benefits in a settlement to a long-running lawsuit that charged the FDNY discriminated against minority applicants. As part of the agreement, the fire department has been required to change its recruiting policies to increase diversity.
After a lawsuit by the Vulcan Society, a fraternal organization of black firefighters, a federal judge had ruled that the FDNY's written entrance exam unfairly excluded hundreds of qualified minority applicants between 1999 and 2007.