Dr. Lori Moore-Merrell sworn in as U.S. Fire Administrator
In a ceremony broadcast to more than 100 supporters watching via Zoom, Moore-Merrell took her oath of office and offered remarks on her vision for the administration
---
By Rachel Engel
WASHINGTON — Dr. Lori Moore-Merrell was recently sworn in as the new U.S. Fire Administrator.
In a ceremony broadcast to more than 100 supporters watching via Zoom, Dr. Moore-Merrell took her oath of office and offered remarks on her vision for the administration.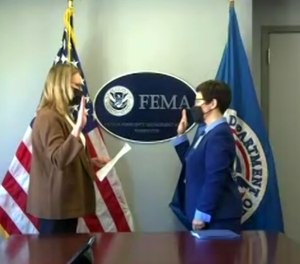 "The U.S. Fire Administration's mission is to support and strengthen fire and emergency medical services, to prepare for, prevent, mitigate and respond to all incidents," she said. "We have to be ready to prepare for the changing landscape of what we all refer to as 'all-hazards.'"
In her statement, Moore-Merrell touched on topics she plans to focus on during her tenure at the USFA, including climate change, civil unrest, diversity and preparedness.
"I want to recognize the fire administrators who certainly went before me and of course the staff at USFA who maintain operations every day," she said in closing. "I'm ready to lead with you."
Moore-Merrell, a former member of the FireRescue1 Editorial Advisory Board and a FireRescue1 columnist, previously served as the president and CEO of the International Public Safety Data Institute, which she founded, and as a senior executive for the IAFF.
Read these articles authored by Moore-Merrell: 

Read next
4 data points that all fire chiefs should know
Chiefs should be knowledgeable about key community risks and operational deployment data

Read next
6 more data points that all fire chiefs should know
Glean key decision-making insights from data based on budget, CAD, incident types, geolocation, weather and policies