'He gave us everything': New Pa. fire academy renamed for long-serving assistant chief
Allentown Assistant Fire Chief Chris Kiskeravage died in June from job-related cancer
---
By Glenn Epps
The Express-Times
ALLENTOWN, Pa. — A ribbon-cutting ceremony for Allentown's new state-of-the-art fire academy was coupled with tears and some bittersweet emotions, officials said Thursday.
The academy will be renamed after the city's long-serving Assistant Fire Chief and Instructor Chris Kiskeravage, who died in June after a three-year battle with cancer that colleagues say was linked to his job.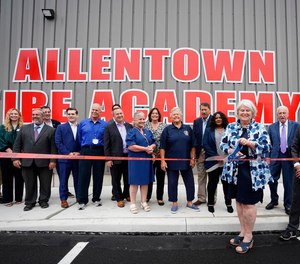 Kiskeravage was a Schuylkill County native who started out in public safety as a teenage ambulance corps volunteer and went on to serve as a career firefighter and paramedic at Cetronia Ambulance Corps and the Easton Fire Department from 1989 to 1996; then with Allentown until 2019, his obituary states.
He was in command of the Allentown Fire Academy when he retired, and also became South Whitehall's first fire commissioner, according to the remembrance.
Kiskeravage died on June 9, 2023 at the age of 56.
"I wish we were here not doing a dedication because that would mean that Chris was still with us, but we are," Allentown Assistant Fire Chief Matt Eharth said. "This was his vision, and I hope he would be proud of all the work that went into making it happen."
"He gave us everything," Eharth added.
The new fire academy is a far departure from the one-room school house or the three trailers once used to train at least 30 firefighters, paramedics and first responder trainees in the past, Fire Chief Efrain Agosto Jr. said. The new building includes one large, multi-use classroom with a partition capable of seating 40, several flat-screen televisions, laptop-plugin desks, a full kitchen, a cot room, and two offices for department leaders.
The building houses the city's first Emergency Operations Center to be used as a conference room for department leaders and government officials in case of emergencies.
The project was made possible through a $2.3 million allocation of American Rescue Plan funds, $129,593 in Community Project Funding secured by U.S. Rep. Susan Wild and grant funding through former state Senator turned Pennsylvania's Sec. of Revenue Pat Browne.
The project cost roughly $2.65 million to complete, officials said.
"Today, we're deeply feeling the loss of Assistant Fire Chief Chris Kiskeravage," Wild said during her speech. "It's thanks to his leadership that the Allentown Fire Academy is the first-class training facility that it is today."
Wild said she intends to find ways to improve the first-responders' working conditions, starting with limiting exposure to toxic chemicals.
"We need to make it safer, and it's in his memory that I'll continue to work on these issues," she said.
Teaching was an important part of Kiskeravage's life, his wife of 36 years, Andrea "Andy" Kiskeravage, said. Although they never discussed what exactly inspired him to teach, she said, he seemed motivated to keep people alive — not just civilians.
"Something just clicked for him and he wanted to keep the guys safe," she said. "He was a great man, great father, and certainly a great firefighter."
During the event, Wild presented Andy Kiskeravage with a U.S. flag in her husband's honor. The retired flag was flown over the nation's Capitol, Wild said.
It was through his work at Bucks County Community College which hosts a contract with the United States Department of Defense that Kiskeravage was able to travel around the world to pursue his teaching. Today, through the Allentown Fire Academy, trainees are able to graduate with various degrees as EMTs, pump operators and first responders.
Kiskeravage was also credited with increasing the training season from 14 weeks to 21 weeks.
The city is scheduled to welcome its first class of future firefighters and first responders to the new building in January 2024. The petition to rename the facility after Kiskeravage hasn't been scheduled to go before city council yet.
Allentown Mayor Matt Tuerk called the Allentown Fire Academy a symbol of city and Kiskeravage's values about care, inclusion, support and respect.
"It's an honor to stand before this state-of-the-art facility and it's a testament to Chief Kiskeravage's enduring legacy and commitment to our values in the city," he said.
©2023 Advance Local Media LLC.
Visit lehighvalleylive.com.
Distributed by Tribune Content Agency, LLC.
McClatchy-Tribune News Service