32 fires and 3,150 lighting strikes reported in one night in Wash. county
A primary goal was to get firefighters and volunteers home to rest so they would be prepared for future fires, but that they had been too busy on the ground to do so
---
By Janelle Retka
Yakima Herald-Republic, Wash.
YAKIMA, Wash. — A thunderstorm that swept through the region Tuesday kept firefighters busy.
Horace Ward, senior emergency planner with the Yakima Valley Office of Emergency Management, said 32 fires and 3,150 lighting strikes were reported Tuesday in Yakima County.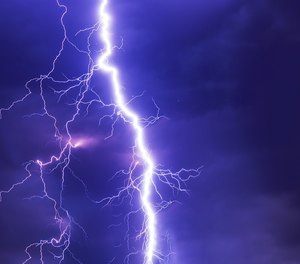 Joel Byam, deputy chief of Fire District 5, said firefighters in the Lower Yakima Valley were working tirelessly to fight fires since Tuesday's storm started.
Two of the larger fires were in the Lower Valley overnight. One, near Tecumseh and Pumphouse roads in White Swan, was 400 acres. Another on Pumphouse Road south of Toppenish in the foothills was roughly 150-200 acres, Byam said.
"So if you're in the Valley and look south to Toppenish you'll be able to see the black mark on the hill," he said.
Six smaller fires burned roughly five to 10 acres each.
"We're still out on fires today. Our crews were out all night until 5 or 6 in the morning," Byam said Wednesday.
Additional crews and staff engines had been brought out to help control fires, which Byam said were contained as of Wednesday afternoon and being monitored.
"The problem when you get that lightning and that rain that goes through (is that) some (fires) will go out and some will just smolder … and then the sun came out, dried it up, and then we've got a flame," he said.
Byam said a primary goal was to get firefighters and volunteers home to rest so they would be prepared for future fires, but that they had been too busy on the ground to do so.
"If you come to the Lower Valley, all you're going to see is smoke," he added.
Yakama Nation
The Yakama reservation had as many as 16 wildfires burning as of Wednesday evening, said Bureau of Indian Affairs representative Rocco Clark.
Most of them were small, with the largest one at more than 130 acres near U.S. Highway 97 and the southern border of the reservation, he said.
The Yakama Nation Fire Management team is still assessing the fires to determine if more resources will be needed, Clark said.
"Everyone is working hard, trying to do their best," he said.
Tuesday night lightning strikes touched off the fires that kept fire crews busy through the night, he said.
"It was just a crazy light show," he said. "Pretty much all of the county districts and fire management were just all chasing fires," he said.
West Valley fires
Firefighters and helicopters responded to a wildfire in the Pioneer Way-Summitview Road area near Yakima that was out by 12:30 a.m., Ward said. The Rocky Top Fire was listed at 15 acres by the Central Washington interagency communications center.
Two houses in the West Valley area were hit by lightning, leading to an attic fire at a residence in the 1400 block of Cottonwood Canyon Road, according to West Valley Fire-Rescue Chief Nathan Craig. The fire was put out, but the family is staying elsewhere due to damage.
"Hopefully there's no more lightning," said Craig.
Firefighters also responded Wednesday afternoon to a fire in the L.T. Murray Wildlife Area.
Cliffdell area
Fire crews fought a wildfire about 32 miles northwest of Yakima that was started by lightning Tuesday night, according to information from the Okanogan-Wenatchee National Forest.
Two engines and two hand crews were fighting the Left Hand Fire, which was reported at 20 acres on Wednesday afternoon.
The fire was in grass about 2 miles from the Cottonwood Campground, said Debbie Kelly, public information officer for the national forest.
The state Department of Natural Resources said the fire was about 4 miles east of Cliffdell, just over the county line in Kittitas County. Because of the complexity of the terrain, a type 3 incident management team has been ordered and will arrive Thursday to manage the fire.
Phil Ferolito and Joanna Markell contributed to this story.
———
©2019 Yakima Herald-Republic (Yakima, Wash.)
McClatchy-Tribune News Service