Abandoned building fires: Going on the defensive
---
Editor's note: What's your view on the policies introduced by the Flint Fire Department? Have your say in the FireRescue1 Forums or the Member Comments section at the end of this article.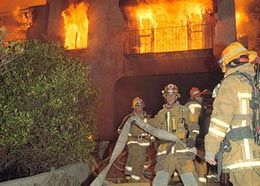 AP Photo/Mike Meadows
L.A. firefighters at the scene of a vacant building fire in 2003.
Fires in abandoned buildings are the scourge of fire departments nationwide.
Their derelict conditions can serve as deathtraps for firefighters, or at the very least present a constant risk of injuries when offensive tactics are deployed. 
In Flint, Mich., they represent the largest source of injuries to the city's firefighters, according to a study carried out by department Primary Captain Andy Graves.
The statistics have resulted in new SOGs being adopted by the Flint Fire Department to try to change the philosophy toward fire suppression operations at abandoned structures and encourage defensive, exterior attacks. 
 
Larger departments such as those in New York and Phoenix have had policies in place for several years that relate to abandoned buildings. Some smaller departments, including Flint, now seem to be following suit.
Like those SOGs in New York and Phoenix, Flint's new guidelines incorporate aspects of NFPA 1500 relating to risk management and rules of engagement.
Graves admitted there was some initial resistance from some firefighters in his department.
"Some of the firefighters are used to and were trained to move forward and attack fire, not to pull back and use defensive measures," he said. "But once they saw the big picture and what was happening, it became pretty well accepted."
Injury concern
The "big picture" was Graves' study of vacant/abandoned building fires and firefighter injuries in Flint over a 12-month period from April 2006. He undertook the project after becoming concerned at the high number of injuries being suffered by firefighters at such incidents.
The key findings were:
Vacant structure fires represent 40 percent of the department's structure fire volume

Sixty-two percent of the department's fireground injuries occurred at vacant structure fires

Seventy-nine percent of the cost from fireground injuries resulted from fires at vacant structures

Ninety-three percent of the cost of injuries at fires in vacant structures occurred in buildings that were unsecured when firefighters arrived
Of particular note was the fact that the overwhelming majority of abandoned buildings that received offensive attacks have since been scheduled for demolition or already been pulled down.
The hazards in abandoned buildings covered in the report are universal: poor structural integrity, advanced fire conditions due to the use of accelerants, large amounts of trash and debris, and entanglement and entrapment hazards.
Flint's new SOGs still leave the decision of how to search the abandoned building up to the incident commander.
During the study period, Graves said, there were two issues of civilian life safety at vacant structure fires, which represented 1.1 percent of total vacant structure fires.
According to the report, the first incident was a vacant two-story house fully involved in fire. Defensive operations were initiated, until bystanders claimed that a vagrant could be in the building. Fire crews then made an interior attack until being forced to withdraw due to worsening conditions. The remains of a civilian were discovered in the basement after the fire had been extinguished.
The second incident also involved a vacant two-story house, this time with fire
emanating from one room on the second floor. Because of the more favorable conditions, crews immediately initiated an interior attack and successfully
rescued two injured civilians.
Once the issue of life safety has been resolved, Graves said, the Flint department requires its firefighters to focus on defensive strategies.
According to the SOG, "Interior attacks should not be initiated unless there is a known life in jeopardy or unless fire conditions are incipient or minimal and structural and hazard conditions permit safe entry."
Education sessions
In the weeks that followed the implementation of the new policy, Graves scheduled sessions for all shifts at the Flint department that explained the reasons behind the change in direction
The presentations covered several previous incidents involving abandoned buildings.
"We explained what happened to the building after the fire," Graves said. "We found we were not getting anything back from the property, Afterwards, it would often just sit there abandoned and be demolished or boarded up."
Graves also quoted from relevant comments made in the past by from respected fire service leaders such as Vincent Dunn and Billy Goldfeder to hammer home the shift in philosophy.
"It was good to show the fire service leaders talked about the need to do things differently, and show that it wasn't just coming from our departments," Graves said.
But the suppression side of fireground operations forms only part of the new policy.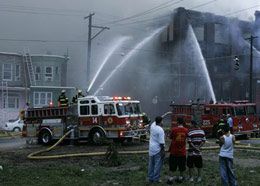 AP Photo/Matt Rourke
Fire sweeps through an abandoned warehouse in Philadelphia in June.
A large section is devoted to taking proactive action to ensure the building doesn't reignite further down the line.
Copies of the city's demolition list are being provided for use by on-duty Battalion Chief, who can refer to it to determine if the structure being responded to is scheduled to be knocked down.
In the post-incident stage, the Battalion Chief is required to inform the building department of the fire, which will accelerate getting the structure moved up the demolition list.
They are also ordered to submit requests for boarding or demolition of abandoned buildings that have been involved in fire that are not on the list.
Mindset change
FireRescue1 columnist Fred LaFemina called for a change in the mindset of firefighters in an article earlier this year.
Recalling his early days in the FDNY, he wrote about how he and his crewmates would disregard the hazards by creating their own justifications to head into the building, which effectively became live-fire burns.
Today as a battalion chief, he says he would never send his troops into one of these buildings unless a total risk-versus-benefit analysis was done, with the priority being a life hazard.
The same shift in culture and philosophy is also evident at the Phoenix Fire Department. The shift followed the line-of-duty death in 2001 of Firefighter Bret Tarver, who died in after being trapped by debris during a raging fire at a west Phoenix shopping center.
While Firefighter Tarver was fatally injured at a commercial complex, the tragedy led to the development of new SOGs governing abandoned buildings.
Steve Kreis, executive assistant chief of fire department operations, said the death prompted a department-wide review of operations to reduce the chances of suffering another LODD at any type of operation.

"Clearly in a vacant structure, the risk of any people being inside is significantly lower," Kreis said. "It doesn't mean we would not fight the fire, but it does mean we would evaluate the situation appropriately and don't put ourselves at risk for nothing more than a vacant building."
Like Flint, firefighters were guided toward a change in their thought processes under the guidance of NFPA 1500.
Training videos have been produced by the department of fireground operations at abandoned buildings to highlight the benefits of exterior attacks.
 
"Previously, just like everybody else, we were very, very aggressive before," Kreis said.
"But when you balance that against the NFPA 1500 risk model and you're operating in a vacant structure, the chances of people inside are not high in a lot of cases."