Days of toil bring hard-won gains over huge Calif. wildfire
The wildfire is still threatening thousands of homes and stranding tens of thousands of evacuees
---
By Christopher Weber
Associated Press
LOS ANGELES — Firefighters finally eked out progress on the titanic task of cutting fire lines around one of the biggest blazes in California history.
As the fire straddling Santa Barbara and Ventura counties entered its 10th day, crews had carved containment lines around one-quarter of it.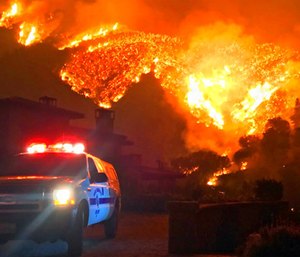 But the wildfire still raged Tuesday, threatening thousands of homes and stranding tens of thousands of evacuees.
The so-called Thomas fire, one of several burning around the state, has burned over 900 structures, at least 700 of them homes. And it has stretched across nearly 370 square miles (958 sq. kilometers) of territory, making it the fifth largest in state history.
Elsewhere, fire officials announced that a cooking fire at a homeless encampment sparked a blaze last week that destroyed six homes in the Bel Air neighborhood of Los Angeles.
Arson investigators determined that the so-called Skirball fire near the world-famous Getty museum was started by an illegal fire at a camp near a freeway underpass, city fire Capt. Erik Scott said.
The camp was empty when firefighters found it but people apparently had been sleeping and cooking there for at least several days, he said.
Back at the largest of the wildfires, firefighters protected foothill homes while the fire grew mostly into forest land, Santa Barbara County Fire Department spokesman Mike Eliason said.
Red Flag warnings for fire danger due to Santa Ana winds and a critical lack of moisture were extended into the week, with a possible increase in gusts Thursday into Friday.
Evacuations continued for the seaside enclaves of Montecito, Summerland and Carpinteria and the inland agricultural town of Fillmore.
Rock and Roll Hall of Fame member Eric Burdon and his wife, Marianna, of Ojai were among the people who fled the smoke Tuesday. Last week, Burdon wrote on Facebook about having to flee and returning temporarily to find their home still standing with ashes all around.
"A week like this gives you the perspective that life is what truly matters," he wrote.
A photo accompanying the post showed his handprint and signature written in ashes.
Residents near a Carpinteria avocado orchard said the trees could end up saving their homes.
"You have a thick layer of leaves underneath the bottom and they are watered regularly, so it's like a sponge," Jeff Dreyer, who lives nearby, told KEYT-TV. "So the fire gets to the sponge full of water and it slows it down."
Officials handed out masks to those who stayed behind in Montecito, an exclusive community about 75 miles (120 kilometers) from Los Angeles that's home to stars such as Oprah Winfrey, Jeff Bridges and Drew Barrymore. Actor Rob Lowe was among residents who evacuated over the weekend.