Fireground Tactics: Planning Your Attack
---
By Michael Lee
In the previous article we looked at the pre-attack indicators involved when beginning the risk vs. benefit process for selecting offensive or defensive tactics. Preplanning, building construction and collapse indicators all come into play.
We can now begin to focus on taking all of this information to make the safest decision when considering strategies. In essence, incident operations should be designed far ahead of the sound of the bell.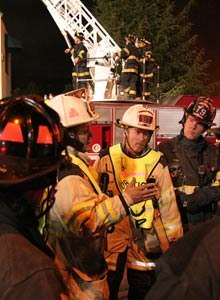 Utilizing pre-incident plans
Information collected during building pre-plans must be included when establishing incident priorities and strategy/tactics. They can help you to determine:
What structural elements protect occupants:
Location and number of exits
Location of escalators or elevators 
Location of windows or other openings suitable for rescue access
Special evacuation considerations for disabled occupants, the elderly or large number of occupants 
Flammable and toxic interior finishes or processes
What potential life hazards to firefighters exist:
Flammable or combustible liquids
Toxic chemicals 
Explosives
Reactive materials
Radioactive materials
Physical condition of the structure:
Components that could fail during a fire
Construction materials that might lose their strength during a fire
Ornamental building fascia, awnings or marquis
Unsupported partitions or walls
Roof construction
High piled stock
Significant live or dead load to the roof support structure
Heavy items (bank vault) that could fall through a floor structure or cause a collapse
Building features that could confuse or trap firefighters
Large open areas
Dead-end corridors or hallways
Open vats, pits or shafts
Openings into underground utility shafts or tunnels
Multi-level floor arrangements
Alterations that disguise the original construction
On-scene capabilities
Taking all of the information gleaned from preplanning, the fireground commander is ready to face the dynamic process of fighting a fire. The initial information gives the IC the ammunition they need to make educated decisions about the structure based on the best available information regarding the structure itself, its use and layout.
A 360 degree walk-around of the incident scene should note the condition of the emergency and potential hazards to personnel. The IC should remind themselves of the existing building construction to assist with anticipating fuel load, fire spread and potential structural weak points. Note the size, placement and movement of the fire.
Catalogue how long the fire has been burning and its impact on the structure (greater that 15-20 minutes should cause the IC to consider the need for an immediate change to a defensive strategy).
What is the condition of the structure at this time? Project the area required for the need to establish collapse zones for one and one-half times the height of the structure. Based on the pre-plan and size-up, the IC now begins to build an incident action plan.
Now I know some of you will be shaking your heads and thinking that this is no time to pull forms out of a folder to fight a fire. But an incident action plan outlines three essentials:
What do I have?
What do I need to do?
Do I have enough stuff to get it done?
Don't forget that an initial arriving apparatus basically develops an IAP when they pull up and see fire, establish a supply line, stretch an attack line and put out the fire. They just did not take the time to pull out the forms and write down the steps. I would argue that if a scene appears to be moving beyond a first alarm fire, an IAP in written form can be started. Utilizing tactical check-off sheets are minimal IAPs that help to ensure things don't get forgotten.
Initial strategy and tactics include apparatus placement, use of attack and support hose lines, ventilation procedures, rescue operations, forcible entry operations and establishment of a command structure.

Strategy and tactics will be based on the need to prioritize the typical RECEO acronym elements:
• Rescue; to include search and removal of victims
• Exposure protection
• Confining the fire
• Extinguishing the fire
• Overhaul after the fire has been controlled
I like the idea of creating a new acronym, REC REVOS:
• Rescue
• Exposure
• Confinement
• Rapid Intervention (can't speak strongly enough about having RIT established as early as possible)
• Extinguishment
• Ventilation as needed
• Overhaul
• Salvage
Risk benefit
Initial strategy and tactics should be decided upon based on the risk being presented to the crews not only at the onset of the initial decision making, but also projected forward to include what could be happening in the next 10 minutes. The IC must determine what hazards are present, what risks exist to personnel, what chances exist that something could go wrong and what benefits could be gained by choosing one strategy over another.
Risk assessment ensures that all members operating on incident scene understand the IAP and are conforming to it. It should be conducted periodically throughout an incident, especially when strategic objectives are reached such as:
• Primary search completed
• Fire knocked down
• Patient extrication completed
• Hazardous material spills or leaks contained
The incident commander should conduct a risk analysis:
• Prior to initiating any action on the incident scene
• Upon any change in strategy
• Upon any major event in the incident
• Upon a change in the incident commander
Special considerations
There are special circumstances that may impact the incident commander's selection of strategy. These are things that all fireground commanders should keep at the back of their minds when applying the risk management planning process. Civil unrest may require an increase in police protection for on-scene fire resources.
Long-term events or those occurring during adverse weather conditions may require additional logistical needs. Procedures for auxiliary power and lighting should be anticipated for night operations. If the structure is under renovation, question the underlying structural stability. If the odds are high that lightweight trusses are utilized in the structure, reduce your fire impingement time to 10-15 minutes to be safe.