How to attack townhouse fires
Knowing how townhouses in your area have been built will assist in anticipating how fire will move
---
By Michael Lee
Fighting fires in townhouses can be a time consuming and resource intensive event if fire has burned for a while and/or is hidden. Incident priorities, however, should remain the same:
Life Safety — where are the victims?
Incident Stabilization — keep fire contained to the smallest area possible
Property Conservation — minimize property damage, protect exposures if threatened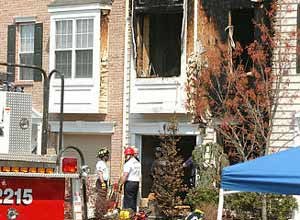 A minimum number of resources to fight fires in townhouses should contain at least three engines, one truck company, two medic units and a command officer. In a perfect world where more resources can be assigned on a first alarm response, I would recommend five engine companies, two truck companies, a rescue squad, two medic companies and at least three command officers.
First due units should establish a water supply, advance an initial attack line, establish command and initiate a size-up to anticipate where the fire is at and what rescue profile exists. The size-up will best be accomplished if the primary officer gets to view as many sides of the structure as possible on arrival – especially the rear!
If the fire unit is in the middle of a row of units, go through an adjacent unit to view the rear. This first due unit must establish where the fire is located and whether or not it is currently confined in a single unit. Where does it appear the fire is moving and is there civilian or firefighter life hazards at this time? What role will the building construction have on the spread of fire, hidden voids or collapse issues?
The initial company officer should consider the possibility of an immediate second alarm if the fire is found in two separate occupancies, fire on more than one level of the townhouse, fire on the second floor with exposure to the roof or attack or the existence of known multiple rescues.
Second due engine companies should confirm a water supply is established and establish a second if the scenario appears to be moving rapidly (aerial waterways may be required) or if the fire is already considered defensive in nature. A second attack line should then be stretched to back up the initial attack line. As units arrive, it is critical that a unit is assigned to the "C" charlie side of the structure to ensure exposures are evaluated.
This "C" side may require establishing their own water supply and have the "C" Division established and assigned. This division officer should assume the "C" side responsibilities until a secondary command officer can arrive and assume that role.
The role of Rapid Intervention Team responsibilities should be established as soon as possible. This may require the assignment be given to the third engine, second truck or rescue squad based on the size of the initial run resource apparatus numbers.
Ventilation access
The first due truck company should position for ventilation access and first arriving units should ensure that room near the front side of the structure (or side requiring access) is left open for the truck to position. This unit will have to accomplish ventilation as required by command, throw secondary ladders around the structure for emergency egress for interior crews and possibly force entry.
When completed with these tasks, they may be assigned search on the fire floor and above the fire floor. If the second due truck is not assigned RIT responsibilities, they will assist the first due truck with ventilation, laddering for egress and assisting with search to the fire floor and above.
The rescue squad upon arrival should be assigned to RIT if this has not already occurred. While they are performing their RIT size-up, they should secure utilities, force entry to any doors that may hinder egress to the secondary ladders and remove security bars on units that crews are working the fire in and lateral units for emergency egress.
They should place their equipment staging area near the command post and receive a quick passdown on units, positions, incident action plan and any required communications channels. They should run all their power equipment to ensure it is in working order and monitor both the command and tactical channels.
Medic units on scene should be positioned out of the apparatus access driveways and establish a medical group. If you are lucky enough to have cross-trained FF/medics, they can be assigned to working units to increase staffing working on the fireground.
If your medics are not cross-trained as firefighters, they should establish a rehab area distant from the command post and evaluate all personnel for fatigue-related problems as they rotate through rehab. Ensure the firefighters have access to water and light snacks so they can be rotated back into assignments after a minimum 20-minute rest period.
As always, the comment should be made that while pre-assigned roles do assist with all members knowing their responsibilities, fires don't care if the second unit is supposed to do this or that. If it is necessary to alter the pre-arrival assignments to shift to "all-hands" rescue assignments, ensure your personnel are trained to be able to perform whatever role they may be assigned.
Incident Action Plan
In most cases, an aggressive offensive interior attack should be initiated unless other factors exist that would place firefighters in hazardous positions. Also consider impacts from the initial rescue profile and whether your personnel would be better used making a rescue or putting the fire out. Remember, if it is put out, the problems caused by a fire tend to reduce rapidly.
Conduct the primary search of all units involved in fire and lateral units that may have been exposed to smoke. Generally, extinguishment can be accomplished with 1 ¾" attack lines, but be prepared to use a 2 ½" line for primary as well as back-up hand lines.
Interior fire exposure problems should be controlled with a quick containment of the fire. Interior attack lines should protect any occupants within the structure while focusing on the interior stairs or other vertical exposures. An aggressive interior fire attack, a transitional attack or a defensive attack can address exterior exposure issues. Ensure all personnel are aware of which mode the fireground is working
Ensure the ventilation groups, interior attack crews and incident command are coordinated when venting for life (aggressive removal of windows in areas of suspected victims to support primary search) versus venting for fire (coordinated and limited removal of windows within the fire area only). Natural horizontal ventilation should be coordinated with fire attack crews as well.
Vertical ventilation for roof openings may be required if the fire has accessed the attic or gained access to the vertical void spaces (chimney, wet walls, etc). Lightweight construction does not provide the necessary support to allow crews to work on the roof, especially if fire is in the attic. Crews can still provide vertical ventilation while operating safely from aerial devices.
Fires in townhouses will continue to present themselves throughout your career — whether a new, wet-behind-the-ear boot or a salty officer.
Knowing how your townhouses in your area have been built will assist in anticipating how fire will move through those occupancies. Review all of the fires that have ever occurred in those units to see how they moved in the past.
Drill in these units to ensure you are well versed in the pre-plan for these developments. Walk through developments under construction to be aware of what hazards and voids exist in what areas. Most importantly, be a craftsman of your trade. Every day, learn something new about your chosen profession. Stay safe and, as always, I welcome your comments either via e-mail or the area below.