Junior FFs respond to massive Conn. fire
Woodland High School student volunteers relieved exhausted adult firefighters after almost six hours into battling the fire
---
By Christine Dempsey and Zach Murdock
The Hartford Courant
BEACON FALLS, Conn. — About 50 firefighters battled a massive blaze at a former meat-packing plant in Beacon Falls that raged almost all night and into Thursday morning, destroying the building on Rimmon Hill Road.
Almost six hours into the fight, as volunteer firefighters left the scene for their daytime commitments, reinforcements from nearby Woodland High School came to help relieve exhausted adult firefighters, officials said Thursday afternoon.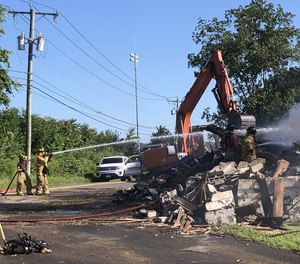 High school administrators allowed five members of the volunteer Beacon Hose Company's junior firefighting corps to dip out of the start of their school day at about 8 a.m. to help at the scene, the company said.
"A total of five juniors made a big impact during overhaul to take some of the load off our weary overnight holdovers," the fire company wrote in a Facebook post-Thursday afternoon.
"Woodland simply *gets it* and we're very appreciative of that," the company wrote. "We're thrilled that our junior corps members possess the strong academics and character that made it an easy decision for the school administration, and we're equally as proud that these guys (and girl!) are dedicated enough to their training so they picked up the slack without a beat."
Firefighters first arrived at the scene at about 2:30 a.m. Thursday and worked for almost six hours to control the fire, officials said.
About 50 firefighters and medics from five area towns helped at the scene, fire officials said, but getting water on the intense fire was a challenge because there are no hydrants in the area. Crews were shuttling water from a hydrant near Dollar General on Route 67 in Oxford.
Crews had to demolish parts of the thick cinder block walls of the building later in the morning to get to further hot spots and overhaul the scene, officials said.
No firefighters or civilians were injured during the fire. Rimmon Hill Road was closed for most of the day during while the fire raged but was reopened around 1 p.m. as crews continued to douse more hot spots and clean up the scene, officials said.
The state's fire investigation unit was called to the scene to help the Beacon Falls Fire Marshal's Office to investigate the cause of the fire, which had not been determined Thursday afternoon.
———
©2019 The Hartford Courant (Hartford, Conn.)
McClatchy-Tribune News Service