Neighbor mourns 'big teddy bear' firefighter
Jon D. Davies planned New Year's Eve wedding, another garden in front of his condominium, fried turkeys, fishing trips
---
By Kim Ring
The Telegram & Gazette
WORCESTER, Mass. — What Luis Daniel Santos will miss most about his "big teddy bear" of a neighbor are the things that hadn't yet happened.
"He had a bike, like a Harley I think, and he was going to take me for a ride," Mr. Santos said. "He was going to teach me to scuba dive, too."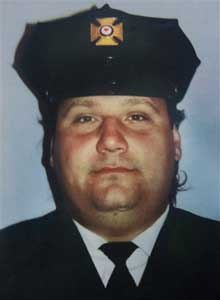 Firefighter Jon D. Davies Sr. had plans: a New Year's Eve wedding, another garden in front of his condominium on Sunderland Road, a few more fried turkeys shared with friends, a fishing trip with Mr. Santos.
But now none of those things will happen and his neighbor, seemingly along with the entire city of Worcester, are grieving.
Firefighter Davies died Thursday when he and partner Firefighter Brian Carroll went into a burning building at 49 Arlington St. after being told there may still be someone inside. As they searched, things went dreadfully wrong. The rear of the building collapsed, killing Firefighter Davies and trapping Firefighter Carroll in the basement.
The news of firefighters trapped in the building made its way to retired Ware Firefighter Randall J. Witkos, who called the Ware fire station then went there to sit with his old comrades to await word.
Later in the day, he learned the dead firefighter was his friend and sometimes dive partner, Jon Davies.
"When I heard it was him, I just sunk," Mr. Witkos said. "He's one I always worried about, when I'd hear things going on in Worcester I'd always wonder if he was OK. I wish I'd stayed in touch more."
Mr. Witkos was an intern in the dive master program at Inland Divers in Leicester when Firefighter Davies was completing his open water certification.
The two went to Gloucester, diving for lobsters, and stayed in touch when Mr. Witkos rode an ambulance in the city as he worked toward his intermediate EMT certification.
"He loved diving and the Fire Department. He talked about how he was going to follow through with it and get on the department's dive team," he said. "And he did. That's how he was. He'd say he was going to do something and he'd follow through."
Mr. Santos echoed those thoughts remembering how, during the June 1 tornado, he was outside in the hail, wind and rain calling for his missing cat when Firefighter Davies joined him.
He smiled thinking about the burly father of three looking for a small cat that turned out to be under a bed. Eventually Mr. Santos went to the basement, but Firefighter Davies did not.
"He was a big guy, he wasn't afraid of that," Mr. Santos said.
Mr. Davies' size was something that stuck with those who met him.
"I remember looking at the tattoo on his arm, a Maltese cross, and thinking he was a big guy," Mr. Witkos said.
The news Thursday left both men shaken. Mr. Santos, a close friend of Firefighter Davies' fiancee, Jessica Dumas, said the two were like a modern day Brady Bunch, him with three boys and her with three girls. They'd been together for years and were excited about their upcoming wedding, he said.
Outside his condominium, a few neighbors held an informal garden competition to see whose yard would look the best. Last year, with Ms. Dumas doing most of the work, Firefighter Davies won hands down.
Most of the folks in the condominium complex know one another at least casually, walking dogs and chatting at the mailboxes.
Firefighter Davies was one who fried a turkey on Thanksgiving then brought a plate to Mr. Santos and helped him on the occasions he locked himself out.
"I'm going to miss him so much," he said. "I'm just going to really miss him."
Copyright 2011 Worcester Telegram & Gazette, Inc.
All Rights Reserved