Two Houston firefighters killed in house fire
---
The Asscociated Press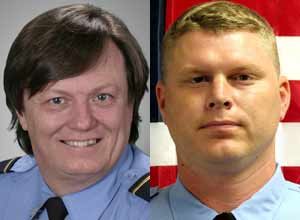 Photos courtesy of Houston FD
Capt. James Harlow (left) and Probationary Firefighter Damien Hobbs.
HOUSTON — Two firefighters in Texas have died in an Easter Sunday house fire.
Houston Fire Department District Chief Tommy Dowdy said the department responded to a house fire call early Sunday in the southeast part of the city.
Dowdy confirmed that two firefighters died at the scene.
They were later identified as Captain James Harlow and Probationary Firefighter Damien Hobbs.
Neighbors said firefighters had entered the house after the blaze appeared to be dying down.
Authorities said firefighters were then ordered out of the house but two failed to answer roll call.
Officials said the cause of the fire had not been determined.
But witnesses said flames suddenly shot through the roof and erupted sideways through the house.