Volunteer firefighter's home destroyed in blaze
A GoFundMe has been created for Ted Punch and his family; they lost most of their possessions and their three dogs in the fire
---
By Bridget Mire
The Houma Courier
LOCKPORT, La. — A Lockport volunteer firefighter, his fiancé and her grandmother lost almost everything, including three dogs, in a house fire Sunday night as they visited with family next door.
The Lockport Volunteer Fire Department was dispatched about 6:45 p.m. to 8944 La. 1, where member Ted Punch lived, Fire Chief Armand Autin said. Another firefighter was next door and one of the first on the scene.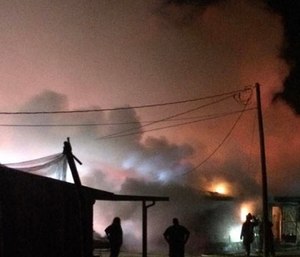 "They walked outside, and the fire was just raging through the back window," Autin said. "It was a fire that developed pretty quickly."
He said the blaze took a few hours to extinguish, but firefighters remained on scene until about 1 a.m. Monday putting out hot spots. No humans were injured.
Punch and his fiancé declined an interview.
According to the Lafourche Parish Sheriff's Office, the road was blocked off as firefighters worked to combat the blaze. Motorists were detoured to La. 308, and La. 1 opened by 10:30 p.m.
Autin said the suspected electrical fire likely started in the kitchen and dining area. One vehicle parked at the home sustained major damage, and two others had minor to moderate damage.
Firefighters salvaged some possessions, including guns and photo albums, Autin said.
"For the most part, the structure itself is going to be a total loss," he said. "Pieces of roof collapsed in the center of the house. ... We really had to focus on the adjacent homes because they both were fairly close. We paid really close attention to those two structures. Fortunately, we had no damage - not even heat damage - to the other houses."
Autin said Lockport had about 53 firefighters and 12 units on scene. The Vacherie-Gheens Volunteer Fire Co., Lafourche Fire District 1 Volunteers and Lafourche Parish Fire District 3 also responded.
The family has insurance and a place to stay, Autin said. Community Crusaders of Lafourche donated clothing and other items for its immediate needs.
A GoFundMe account has been set up for the family: www.gofundme.com/everythinglostinfire.
Copyright 2017 The Houma Courier