4 skills needed to build trust within volunteer fire departments
Transforming into a good leader requires using solid communication techniques and fully understanding a department's history
---
By Chief BJ Jungmann, FireRescue1 Contributor
Working through conflict and building trust within volunteer departments takes many skills and abilities. Some of these skills include leadership, respect for the department's history and dynamics, positive vision building and clear communication. While these are not the only skills needed, they are the foundations of a successful organization for a voluntary fire service leader.
1. Leadership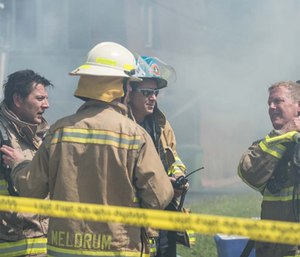 Both formal and informal leaders are essential to the success of any organization, and the volunteer fire service is no exception. A transition from informal to formal leadership in the fire service can be difficult, but is often necessary in order to be a successful leader. This can be awkward if one gets promoted to a formal leadership position and are making decisions that impact former peers. Leaders need to make decisions that are in the best interest of the organization, even if they stress relationships with other volunteers that are friends. Showing favoritism to friends within the fire department after a promotion will diminish one's credibility and will quickly divide the department.
It is important to develop a style that people trust and will want to follow. People are attracted to and will follow leaders who have a vision, treat others with respect, are consistent and provide mentorship. Leaders are always "on stage," as people will constantly be watching and deciding whether or not to follow the leader.
Two of the many things that are certain to happen throughout life are conflict and change. While it may not seem possible, there is a way to have healthy conflict. Healthy conflict requires all affected stakeholders to be present. Conflict becomes subversive when concerns are treated passive aggressively or not brought to the leader's attention at all. A true measure of leadership is whether people are willing to bring issues forward directly. Becoming aware of issues through gossip or from the rumor mill may indicate a lack of trust. It is important to value open communication, including healthy conflict. Working through the issues with everyone involved will move the organization forward, and, in order to be successful, it is important to be a student of the profession and of leadership.
2. Organizational dynamics
As a leader, it is important to study and respect the history of the organization and department. The decisions made in the past should be understood and respected so the best opportunities for the future can be evaluated responsibly. Often, retired and active fire department volunteers become influential figures in the community. They frequently make their views known to local elected officials, which can be problematic for the fire service leader. Although these individual's perspectives and experiences may be different, getting everyone to move to towards the same mission is imperative.
The engagement of volunteers has been a growing issue in the fire service. While there is no single answer to solve the volunteer recruitment and retention issue, there are several things a leader can do to ensure volunteers are being appreciated. It is important that there are clear standards and expectations for everyone. People want to be part of an organization that has high standards, and follow a leader who will provide value to volunteers and respect their time.
There has been an expanding scope of services in many fire departments to include services like emergency medical and hazardous materials responses. A leader should find the right balance between volunteer engagement and recognizing when the organization is at capacity and cannot handle additional change or responsibility. Understanding the history of the organization and respecting it will help the leader develop a roadmap to the future without creating unintended road blocks.
3. Vision
A successful volunteer leader will have a vision. He or she may not have the full roadmap drawn but it is important to know the present and future direction of the organization. This includes knowing those within the organization who can help reach desired goals and build a solid strategy. A simple vision that can be easily understood will be the most effective. Framing the vision can help clarify what is important and sets the foundation for goals to be achieved in the organization.
Collaboration with staff will garner trust, cooperation and a much better outcome than a leader can accomplish alone, which can be challenging, and somewhat intimidating. I was apprehensive about involving others in this process at first, but found that engaging others is a much better route to take and the best way to manage change in the fire service. Involving others can also help a leader understand other perspectives to make the best decision possible.
4. Communication
A leader will be judged on their communication skills. He or she can have the best plans, ideas and vision, but will never get anywhere if they are not communicated well. Using positive communication techniques and being as transparent as possible will help build trust in the organization. As the trust builds, other challenges — such as morale and commitment — will improve. It is important to explain the reason behind a decision whenever possible.
Most leaders make mistakes; it is part of being human. The staff will be forgiving if a leader owns a mistake publicly and is willing to learn from it. By owning his or her mistake in public, a leader shows others the importance of being honest and having integrity. Everyone can learn from a mistake in order to prevent it from occurring in the future, and the organization can then move forward.
The last point to be made here is that it is useful to have some trusted confidants in the organization with whom a leader can check in with regularly. While the leader may think that he or she has communicated something clearly, the staff may not fully understand or may have misinterpreted what was stated. By checking in with confidants and asking for feedback, the confidants can give their opinion, as well as share what they may hear from their peers. Communication is an essential skill in the fire service, something a leader should always be working to improve.
In summary, there are many skills and abilities necessary for a volunteer fire service leader to have, but the four listed above are critical to building trust within volunteer departments. Without the ability to show leadership, the person in charge will not have followers. Without understanding the history of the organization and respecting it, the leader will have a political mountain to climb. If there is no vision, an organization's members will not know how to help build a roadmap for its future. Lastly, and likely most importantly, if a leader cannot adequately communicate, no one will know what he or she is trying to do. Although this list may not be exhaustive, these key points can help solidify the foundation to build a successful organization and leader.
About the author
BJ Jungmann is a senior consultant with Fitch and Associates and also the fire chief for the City of Burnsville, Minnesota. Chief Jungmann started his career as a volunteer firefighter and has risen through the ranks in volunteer, combination and career fire departments. He obtained his Masters Degree of Public Administration from Hamline University in St. Paul, Minnesota and is currently pursuing his Executive Fire Officer Certificate from the National Fire Academy. He is also a paramedic and serves on a Type III Incident Management Team in Minnesota.