Calif. fire chief loses home while battling wildfire
Chief Tom Welch lost his home, then went back and helped with the fire response in Napa and Sonoma counties after he and his family evacuated
---
By Jenna Lyons
San Francisco Chronicle
SANTA ROSA, Calif. — As wildfires swept through and decimated neighborhoods in Northern California, some of the first responders lost their own homes as they were helping to evacuate residents.
One of them was Mill Valley Fire Chief Tom Welch.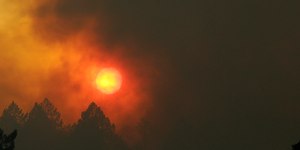 Welch, a Santa Rosa resident, lost his home, then went back and helped with the fire response in Napa and Sonoma counties after he and his family evacuated, Linn Walsh, assistant to the Mill Valley city manager, said Tuesday.
"The chief is fine. His family is fine. Their home is completely gone," Walsh said.
Walsh started a YouCaring page once the city heard the news, and has already raised more than $50,000 for the chief and his family.
About 25 other Mill Valley employees ranging from police officers to building inspectors who live in Napa and Sonoma counties are in limbo. They've evacuated but don't know the status of their homes because it's not safe to return, Walsh said. If the employees learn they've lost their homes as well, the funds will be shared among all those affected, Walsh said.
"It's been a tricky time to be moving forward through this," she said. "When we heard that Chief Welch had lost his home, we thought, 'let's get this going.'"
Mill Valley had at least four police officers and one strike team of firefighters working in the wildfires in Napa and Sonoma, she said. Similarly in Sonoma County, 20 sheriff's office employees have lost homes, some while they were helping to evacuate people, officials said.
"Our first responders are doing amazing work up there, selfless work, and we honor them," Welch said. "The whole Bay Area's on edge, so we're just holding firm."
Copyright 2017 San Francisco Chronicle