Double amputation can't stop firefighter's paramedic quest
Noah Filer came out of a coma to learn he was a double amputee and his firefighting career was over — then chased his goal of becoming a paramedic
---
Minutes after waking up from a medically induced coma Noah Filer asked his girlfriend Jenni two important questions.
His first question to Jenni, now his wife, was, "Where in the hell are my arm and leg?"
He says he took a minute to process the loss of his arm and leg and then asked his second question, "What about my paramedic?"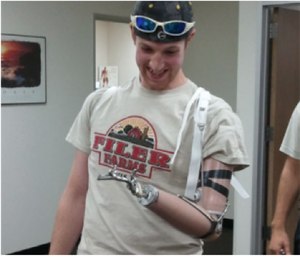 Four weeks earlier, April 1, 2012, Filer had been in a serious motorcycle collision that resulted in a traumatic brain injury and the loss of his left arm and left leg.
Filer, now 27, can't recall what specifically caused him to join the Durand (Ill.) Fire Department in 2007. But he quickly realized that if he wanted a radio, he needed to become an EMT. He completed EMT training in the following fall and responded to as many calls as he could when he wasn't working at a Lowes' distribution center.
"I worked 12-hour shifts Friday, Saturday, Sunday so I was always willing to go to calls on Monday through Thursday," Filer said. "I was going to calls to learn as much as I could."
As he gained experience, Filer got a full-time EMT position on the Durand ambulance. After four years of EMT work, Filer set his sights on a paramedic license to better his chances of joining the Rockford (Ill.) Fire Department.
A promising start
Filer started the SwedishAmerican hospital 12-month paramedic program in August 2011. The paramedic students meet two days a week from August to May. Tonja Radford, paramedic, lead instructor and clinical coordinator recalls Filer as "very good student" in the 2011-2012 student cohort.
Paramedic class, even the challenges of anatomy and physiology, was coming together well for Filer.
"I was busting my butt on clinical hours, class and still working full time," he said. "I was working hard and not having any problems with paramedic class," which had just started the trauma section of lectures and skills.
On April 1, 2012, Filer finished his Durand EMT shift at 8 a.m. He went home to change clothes before leaving with a friend to buy his first motorcycle.
Before leaving the house, his mom warned him she had bad feeling about him buying a motorcycle. That morning he rode a used motorcycle — his first time on a bike — in the farmyard with his friend Jeff. The pair set off for Rockford about 20 miles away.
Filer's last memory of that morning is gassing up the motorcycle in Durand.
"Jeff said I reached up to scratch something above my eye. When I did that I crossed the center line and collided head-on with a car."
Comatose
His injuries were devastating. A Durand ambulance picked him up. Three of his co-workers, two EMTs and a paramedic, cared for him on-scene and en route to the hospital.
"They told me later that I had equal chest rise and fall, no JVD, but they supported with BVM," Filer said of his injuries. "They described my leg as foot backwards pointing towards head, femur broken mid-shaft with arterial bleeding, and left thumb almost amputated from the impact."
He was wearing a helmet, but was unconscious. "My blood pressure was around 200 and I alternated between decerebrate posturing and seizures in the ambulance."
Filer was in a coma for about four weeks as decisions were made and acted upon to replace his femur with a rod, amputate his left leg below the knee, and amputate his left arm above the elbow.
"I have half a tricep and half a bicep," Filer says of his left arm.
After the surgeries — 17 all tolled — and a multi-week stay in the trauma ICU, Filer was transferred to a rehab center.
Nine days after the crash, Filer gave his first purposeful hand squeeze. It took four weeks for him to speak his first words and be moved out of the ICU. On May 10, he moved to the rehab center. It was there that he woke from the coma and declared his desire to finish his paramedic certification.
60 hours and several years left
Before the accident Filer didn't stand out to Dr. John Underwood any more than the other students. Underwood, is the medical director for the SwedishAmerican paramedic education program.
"When I was called to visit him at the rehab center, I learned he was the top student in his class, way ahead on clinical and ahead of expectations," Underwood said. He was unsure what to expect from a young man that had been severely injured and in very tenuous condition while hospitalized.
"Underwood told me I had 60 hours left of clinical and I was doing academically better than anyone else in the class," Filer recalls of Underwood's visit. "He told me he would 'do whatever it takes' because of all the hard work I had done."
EMS instruction is often categorized into three domains: cognitive, kinesthetic and affective. Filer had been excelling in all three before his accident.
But it would be several years before Filer was able to complete his clinical time. The process of fitting prosthetics, learning to use a body-powered harness to open his left hand prosthesis and rehab injured muscles was grueling.
Tom Pratt, SwedishAmerican EMS manager, said Filer would need to do all the things expected of a paramedic with only reasonable accommodations. Filer completed all sorts of testing to gauge his adaptability to succeed with the right equipment and resources, Pratt said.
One of the ways his caregivers and paramedic instructors tested Filer's brain function — performance in the cognitive domain — was by reviewing his paramedic textbook and retaking course tests. The paramedic textbook was also useful for reading and speech-related rehabilitation.
"The most effort (to pass the tests) had to come from him," Radford said of Filer's progress and drive to finish his paramedic course.
Eligibility and accommodations
Filer rejoined Radford's paramedic class in January 2013. And Filer did as well or better on the tests he retook. He was recalled information he previously studied, learned new information and applied that information on examinations.
While Filer was rehabbing, Underwood went to work to determine the eligibility of a double amputee to become a paramedic in Illinois and advocate on Filer's behalf with the Illinois Department of Public Health.
Although the IDPH initially requested that Filer be evaluated for his physical ability, Underwood determined there was no statutory or regulatory authority for Filer's physical ability to be evaluated.
All that was required of Filer was that he complete a paramedic training program — making him eligible for the IDPH written paramedic examination — and successfully pass the exam.
The Americans with Disabilities Act prohibits discrimination against those with disabilities in employment, transportation, public accommodation, communication and governmental activities.
One of the ADA's key provisions is that employers make a reasonable adjustment to a job or work requirement to make it possible for an individual with a disability to perform a job duty.
Two hurdles
To complete his paramedic, the right-handed Filer had two significant kinesthetic skills to demonstrate competency — endotracheal intubation and intravenous cannulation.
"We were waiting on the prosthetic leg, then arm at the end of the didactic class to figure out ways to do the hands-on skills," Radford said.
Filer had three endotracheal intubations still to perform. He got an airway manikin and airway kit to practice on his own. "I had to learn how to position my body to open my left hand using the body-powered harness," Filer said.
Despite learning how to position his body to manipulate the harness, he could not securely hold a laryngoscope handle to perform direct laryngoscopy.
"The left hand couldn't hold the laryngoscope," Filer said. "The hand would slip and I would pry (the manikin's jaw). It was not good airway control."
Video laryngoscopy emerged as a reasonable accommodation for Filer. "The screen on a video laryngoscope kept the handle from sliding through my hand."
A swollen epiglottis
Equipped with a VL system purchased with a grant from the SwedishAmerican Health System Foundation, and accompanied by Underwood, Filer went to the operating room to complete his three intubations.
"I tagged along to see if there were any concerns with Noah's one handedness in the OR," Underwood said. "But it was quickly obvious he was doing fine."
"I was able to get four intubations and could have gotten more, but I only had four of the disposable (VL) blades for the laryngoscope," Filer said.
One of the patients presented a difficult airway to Filer. "The patient had a swollen epiglottis," Filer said. He could not pass the endotracheal tube. Without taking his eyes off the vocal cords he used a bougie and then slid the ET tube over the bougie.
Many of the steps of intravenous access can be performed with a single hand. As Filer completed his clinical time he couldn't tie a tourniquet with just his right hand, and his prosthetic left hand couldn't be manipulated to complete the task.
"I went online and found a one-handed, reusable tourniquet," Filer said. "I bought one, for a few dollars, tried it and it worked." Filer now has a pack of the reusable tourniquets that he can secure single-handed.
As Filer's instructor Radford knows, there are multiple ways to perform patient assessment and treatment procedures. "How else can we do this," Radford encourages other instructors to ask to help students with disabilities find other ways to get things done.
Master of the affective domain
Filer wrapped up his clinical time with three days at the hospital for pediatric and obstetric patient contacts. He did the remaining hours on the ambulance with preceptors who he said were "helpful and encouraging."
Patients on the ambulance didn't have any problem with a paramedic student who also had a prosthetic. "I offered it up to patients," Filer said.
"He passed everything we were asking of everyone else," Radford said. "Just like all the other students."
Those who have worked with and taught Filer are quick to mention his mastery of the affective domain. His positive attitude, always smiling demeanor, sense of humor and willingness to help others have always set him apart.
"I am proud to have Noah as a co-worker," said Pratt, who has been a nurse for 30 years. "Noah said he was going to 'keep at it — adapt and overcome,' which he has done."
"He has drive. [Filer] is more than willing for work it," Radford said. "He told me, 'You can take half my body, but you can't take my will.'"
Radford and other instructors appreciated Filer's jokes and sense of humor just as much after the accident as they did before his injury.
One of Filer's go-to jokes to put others at ease plays on his health care knowledge. "If I ever have diabetes mellitus and need an amputation I want them to take my left leg first."
Final written test 
With his clinical time complete, Filer passed the SwedishAmerican paramedic course. In Illinois, paramedic students can choose the Illinois State Licensing Exam or the National Registry Exam. In early 2016 Filer took the Illinois computer-based test.
Filer's originally chose the SwedishAmerican 12-month program because it was fast and convenient. Now almost five years after he started he was determined to become a paramedic. "I put in so much time and effort," Filer said.
But it wasn't enough. He didn't pass the exam on his first attempt.
After that setback Filer realized he needed to do even more to get ready. "I spent 105 hours using EMTPrep.com and passed the IDPH written exam on March 28, 2016."
Since receiving his paramedic certification, Filer has worked as an emergency department clinical greeter at SwedishAmerican three days a week. During his 12-hour shifts, he greets patients in the waiting room, assesses the nature of their illness, triages patients to be seen immediately, begins the registration process and reassesses patients who are waiting to be seen.
Although he is still on the roster at Durand, Filer doesn't think becoming a firefighter-paramedic is "in the cards." He recently celebrated his daughter's second birthday and likes the flexibility that comes with working three 12-hours shifts a week with four days off to spend with his family. 
Fit and function
"Everyone has good days, bad days," Filer says about learning to live with prostheses. "If there is pain it is a fit issue."
Filer says he has an awesome prosthetist who helps makes sure the fit is good and he has the right size prosthetic to meet the demands of his job, which includes lifting and moving patients.
Filer regularly works out and lifts weights. He is able to squat lift 350 pounds and dead lift 250 pounds so he needed a leg prosthetic that could accept a load of at least 475 pounds — his body weight plus his maximum squat lift.
If Filer decides to seek work on an ambulance, Radford would not hesitate to have him as a partner. She also noted that all paramedics, including those who are able- or full-bodied frequently call for help lifting or treating patients.
For aspiring paramedics who are also amputees Filer's advice from his experience is to "stay patient and keep working."