Embattled Oakland fire chief to retire
Chief Teresa Deloach Reed has largely been out of public view since taking criticism shortly after the Dec. 2 Ghost Ship fire killed 36 people
---
By Kimberly Veklerov
San Francisco Chronicle
OAKLAND, Calif. — Oakland's embattled fire chief will retire May 5, five months after the deadly Ghost Ship warehouse inferno raised questions about management and inspection procedures in the Fire Department, city leaders said Tuesday.
Teresa Deloach Reed, 59, became the first African American woman to lead the fire department of a major U.S. city when she took the post in 2012 after working as an assistant chief in San Jose.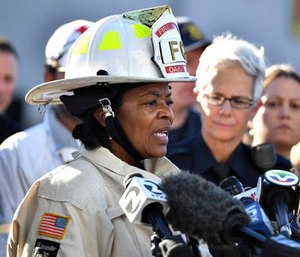 She has largely been out of public view since taking criticism shortly after the Dec. 2 Ghost Ship fire killed 36 people who were attending a concert. The fire brought to light concerns about the competence of the Fire Department's inspections bureau, which had no records of having checked the converted warehouse in East Oakland for safety violations.
Within days of the fire, Deloach Reed conceded that her department was not "aware what was going on" at the Ghost Ship, even though there had been complaints from neighbors and a previous fire in a vacant lot next door, and there was a fire station just blocks away.
Deloach Reed, who couldn't be reached for comment Tuesday, has gone on and off leave in the last several months, giving most of her responsibilities to Deputy Chief Mark Hoffmann. Mayor Libby Schaaf declined to talk about the chief's leaves or disclose the reasons for them.
On Tuesday, the mayor released a statement saying Hoffmann and Deputy Chief Darin White will jointly run the department as the city conducts a search for a permanent replacement.
"Chief Reed has been a role model to many," Schaaf said. "I thank her for her dedication and service to the department and this community. On behalf of our colleagues and the residents of this city, I congratulate her on a pioneering career and wish her well in her retirement.
Community meetings will be held to get input on what residents want to see in the next fire chief, Schaaf said.
Meanwhile, an investigation by the Alameda County District Attorney's Office to determine any criminal liability in the Ghost Ship fire is ongoing.
Earlier this month, Deloach Reed became eligible to be vested in Oakland's pension system. She stands to make 15 percent of her $241,000-a-year base pay, or $36,150 annually. She also receives a $127,000 annual pension from her 23 years with the San Jose Fire Department.
Councilman Dan Kalb said Deloach Reed's impending retirement presented an opportunity for "new leadership and fresh thought."
"I want to congratulate her on a long career, first in the San Jose Fire Department and now here," Kalb said. "We need somebody to take a fresh look at the situation. ... We need to beef up certain parts of our Fire Department."
Kalb and Councilwoman Rebecca Kaplan, both reached Tuesday night, said wildfire prevention in the Oakland hills should be a top priority for the next fire chief's administration. More than 25 years after the 1991 Oakland hills fire killed 25 people and destroyed nearly 3,500 homes, experts say conditions there have gotten even worse due to drought and overgrowth of vegetation.
Leaders of Oakland's firefighters union have long lobbied for Deloach Reed's departure, saying she tried to tackle too much on her own — including taking media calls, acting as the fire marshal and personally interviewing low-level candidates for jobs in the department.
In a statement Tuesday night, union President Dan Robertson said firefighters wished Deloach Reed "all the best in her retirement and in any future endeavors. We will continue working in partnership with management to move the department forward in a positive way with the safety of the people of Oakland our priority as always."
Copyright 2017 the San Francisco Chronicle