Fla. fire chief dies by suicide after PTSD Facebook post
The chief wrote a post about PTSD before telling dispatchers where they could find his body
---
By FireRescue1 Staff
INDIAN RIVER COUNTY, Fla. — A battalion chief was found dead Saturday shortly after he posted to his Facebook page about PTSD. 
Authorities found Indian River County Fire Rescue Battalion Chief David Dangerfield in a wooded area from a self-inflicted gunshot wound, reported the TC Palm. Police said Dangerfield had told dispatchers where he could be found.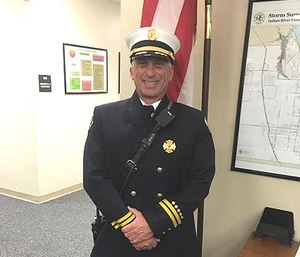 Prior to his death, Dangerfield posted to Facebook discussing PTSD and firefighters, stating that, "PTSD for firefighter is real. If your love one is experiencing signs get them help quickly."

Soon after Dangerfield's death, Emergency Services Director John King notified his colleagues via email.
"It is with great sadness I share with you the passing of Battalion Chief David Dangerfield this evening. Please keep David's immediate and extended family in your thoughts and prayers."
Following the news of his death, friends and family shared support and condolences on Dangerfield's Facebook page. 
SLCFD sends heartfelt condolences and mourns with Indian River County Fire Rescue and the family of Battalion... https://t.co/U8RgDsW9QJ

— StLucieFireDistrict (@StLucieFireDist) October 16, 2016
Dangerfield served as a field training officer for the county's dive rescue team and was a fire instructor at the fire academy. 
Almost 20 percent of firefighters and paramedics have PTSD, compared to the general population's rate of 3.5 percent, reported the International Association of Fire Fighters. 
If you or a loved one is experiencing PTSD or in need of professional help, visit IAFF's behavioral health page. Check out the Firefighter Behavioral Health Alliance's self-assessment guide for suicidal ideations for firefighters and EMTs.