Importance of TIM, physical health highlighted by NFPA 2017 LODD Report
Roadway incidents and cardiovascular health are the biggest dangers to firefighters as reported by the NFPA LODD research
---
The recently released NFPA report of 2017 firefighter fatalities is both encouraging and troubling. Clearly, the efforts of many of our industry partners have had an effect on reducing our mortality numbers – the 60 on-duty deaths reported reflect the lowest number reported in over 40 years. However, some of the unexpected shifts identify room for improvement.
Top takeaways on the NFPA LODD Report
What common causes should we focus on to continue the reduction in firefighter fatalities? Are there still reporting and documentation gaps? How do we engage and motivate all levels within our ranks to be part of the solution? Here are my top three takeaways on the LODD report.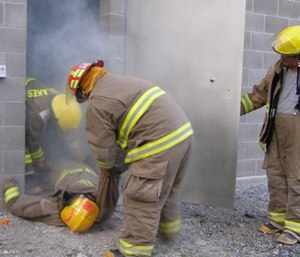 1. Prepare for varied roadway incidents
One of the most alarming aspects of this report to me is the 150-percent increase in roadway fatalities. Ten firefighters died after being struck by vehicles in 2017, up considerably from the average of four annual deaths in the past 30 years.
The roadway incidents typically (not always) involve other distracted drivers unable to react in sufficient time to overcome their distraction. But these roadway incident reports do not always reflect the typical accident scene with a secondary accident that we hear so much about:
The October 2017 death of a California firefighter occurred when the water tender he was driving overturned on a steep grade while he was heading to refill.
Two deaths occurred while firefighters were operating on wires-down calls.
One death occurred while a firefighter was conducting recon during flooding.
The October 2017 death of a North Carolina firefighter occurred while he was clearing fallen tree debris from the roadway. In this particular case, the firefighter was operating at a scene with his personal vehicle emergency lights activated (not typically enough alerting presence).
This past March, two firefighters in West Virginia were killed when their engine left the roadway pavement, slamming sideways into a mountain rock face.
2. Firefighters need to help ourselves physically and mentally
Overexertion, stress and medical issues accounted for more than half of the 2017 deaths, with 29 of 32 deaths of this kind cardiac-related. The National Fallen Firefighters Foundation (NFFF) has invested a tremendous amount of time, energy and resources into programs, training and support that directly contributes to many of the improvements the NFPA report documents. The NFFF is a resource, not the end-all-be-all for improvements in firefighter mortality – the NFFF cannot do this alone. Every chief and every fire department member has a responsibility to ensure they're in the best cardiovascular and physical health condition they can be in. While highway safety is clearly an imminent and emerging threat to our health and safety, we won't be able to help each other if we don't help ourselves physically and mentally first.
3. Don't ignore the gaps in the NFPA LODD report
While the 2017 NFPA on-duty fatality report is encouraging, it is important to note the gaps in information the report was not intended to cover. Many firefighters continue to die off-duty from causes directly related to the functions they performed in the recent past. Additionally, the normal and extraordinary stresses placed on firefighters cannot be ignored. We also now know that firefighter suicide outpaces the numbers of "traditional" line-of-duty-deaths.
Action steps to reduce LODDs
Traffic Incident Management (TIM) needs to become part of your repertoire of training programs. The Emergency Responder Safety Institute (ERSI) has significant resources on-line and available for delivery through www.respondersafety.com. Please avail yourselves of the ERSI TIM training now, before your find yourself on www.FirefighterCloseCalls.com, or worse yet, as one of the statistics captured by the NFFF.
We also need to improve fitness, nutrition and mental health pillars. Eat a little bit healthier, drink a little bit less, and get up and get out and exercise. Your life and the lives of those you protect – as well as those who will rescue you – depend on it.