Letter from the new FireRescue1 Executive Editor: An introduction
A passion for leadership, serving the community and protecting firefighters hallmarks the next step in a career defined by forward progress
---
For as long as I can remember, I was enamored with two things: weather and fire trucks. As a teenager, I contacted the National Weather Service and took the steps to become local weather station 489A. When I wasn't watching the weather, I was riding my bicycle to the local fire station as often as I could. I spent my time cleaning the bay floors, opening and closing the bay doors when calls would come in, and generally feeling like I was somebody, doing something helpful.
When it came time to get a job in my high school vocational program, I did what any cocky little junior would do – I contacted the CBS affiliate television station, WDVM, in Washington, D.C. I asked to speak to Gordon Barnes, the weather anchor, and asked if I could work for him. I suppose, thinking I was older, he brought me on as an intern.
While honing my craft, translating the weather pattern maps that came off of the NWS teletype, I began writing weather forecasts for my local community newspaper, the Bowie Blade-News. It just seemed like the next forward progressive thing to do.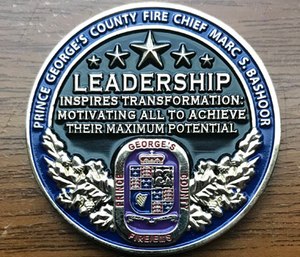 While working at WDVM, I met Rich Adams, a life member of the Bethesda Chevy-Chase (BCC) Maryland Volunteer Fire Department. While I had already joined my local Bowie Volunteer Fire Department, Rich and I would talk for hours about the fire and EMS service, and the need for "good people" to help the community. Rich is probably the person to credit (or blame, depending on your perspective) for where I am today – for keeping my career moving forward.
Leaning forward to achieve maximum potential
My life and my 37-year emergency service career has been marked by one overriding common thread – forward progress. While serving in all ranks of the Prince George's County Maryland Fire/EMS Department, as the emergency manager in the Mineral County West Virginia Office of Emergency Management, presenting overseas for NFPA, speaking and writing for various conferences and entities, keeping an aggressive, forward-leaning edge has been and will be my hallmark.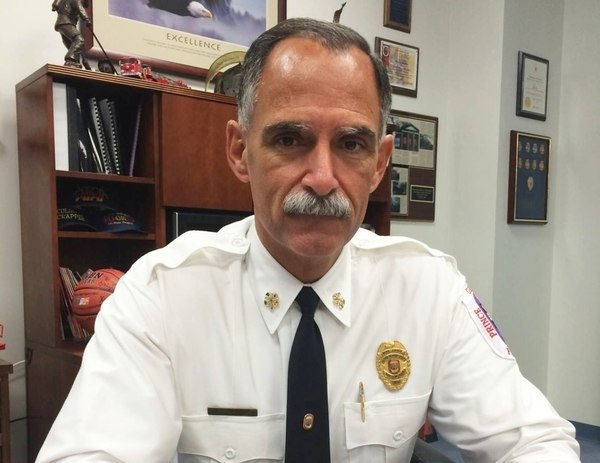 Leadership on a broader scale is the mission I have striven to embody for the past 10 years. The saying I chose to be engraved on my personal challenge coin says – "Leadership inspires transformation: Motivating all to achieve their maximum potential." That's my passion today and moving forward, helping others achieve their maximum potential.
From newspaper, to TV, radio and trade publications, media of one kind or another has been in my blood nearly my entire life. Accepting the position of FireRescue1 and Fire Chief executive editor is a logical next step in my career. I thank Praetorian Digital for recognizing my prior contributions and for having faith in my capacity to add to their continuing efforts to improve firefighter training and safety.
I believe our success in service and in our lives depends on an aggressive operational, training and administrative approach. Aggressiveness should not be contrived as contrary to safety. I strongly believe in the National Fallen Firefighters Foundation life safety initiatives and Everyone Goes Home program, as much as I believe in aggressive approaches to ensuring we have safer communities and safer firefights.
I am passionate about serving our communities – especially ensuring that we're doing the right thing, at the right time, for the right reasons. As a battalion chief, I used a simple acronym to help guide my station officers in the decision making processes – JTDTRT, just do the right thing. Grandma Jones doesn't care about your demographic, or whether you are paid or volunteer. She cares that you're doing the right things, at the right times, for the right reasons.
Connect to move us all forward
There is a tremendous number of great authors, trainers and opportunities from which to learn in the fire service. I trust you'll find as FireRescue1 and Fire Chief continues to grow, that all of our topics will be covered with an aggressive passion for serving our communities and protecting our firefighters.
Whether it is the tremendous assets available at the FireRescue1 Academy, FireGrantsHelp, or with the content from our staff and contributing editors, we're all in this together and I believe our interaction will resonate through the fire service.
I want to hear from you – what we're doing well and what we could do better. Connect with me at Marc.Bashoor@firerescue1.com, @ChiefBashoor, on Facebook  or in person at one of the many tradeshows I'll be attending on behalf of FireRescue1 and Fire Chief. Thanks in advance for your time and attention to moving us all forward.
In the meantime, let's remember that safety is important, yet being one step forward and ahead might be safer. Through training and continued professional development, you develop that smart edge. Be safe, take care and stay smart.