Ala. FD lieutenant fights to keep rank after scheduling incident
Decatur Fire & Rescue Lt. Michael Leonard is pushing back after being accused of mishandling a conflict with a crewmember over mandatory OT
---
By Bayne Hughes
The Decatur Daily, Ala.
DECATUR, Ala. — The proposed penalties climbed from a one-day suspension and six-month probation to a suggestion by Assistant City Attorney Chip Alexander that Decatur Fire & Rescue Lt. Michael Leonard lose his rank during Tuesday's appeal hearing with the Personnel Board.
Leonard is accused of mishandling a June incident in which driver/engineer Pete Moncrief allegedly refused a last-minute directive that he work mandatory overtime. Leonard was Moncrief's supervisor. The Personnel Board held Moncrief's appeal hearing on Oct. 25. The board hasn't ruled on either appeal.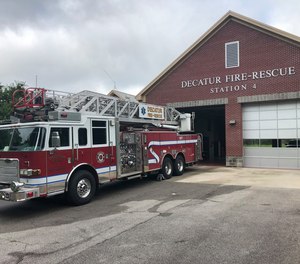 In the two hearings, there was testimony that Battalion Chief Jeremy Baggett notified Leonard on June 26 at 6:15 a.m., minutes before Moncrief's normal shift ended, that another firefighter called in sick that morning and Moncrief was next on the mandatory overtime list. The department uses this list to make sure a fire station has at least three available firefighters.
Moncrief allegedly refused to work the additional 24-hour shift, and this led to the proposed penalties against the two men. Moncrief appealed his determination hearing, at which the mayor suspended him without pay for two 24-hour shifts and placed him on six months of probation.
Leonard's appeal also involved his determination hearing and penalties proposed by Mayor Tab Bowling.
Alexander called for Leonard to be more severely sanctioned.
"I stand by my position that (Leonard) does not need to be a lieutenant with this department. You decide what you need to decide," Alexander told the Personnel Board.
In response, Leonard accused Alexander of pushing harsh penalties against him because he wouldn't sign an affidavit that would have helped the city's case against Moncrief.
Leonard said Alexander "wants to punish me because I couldn't help him nail Pete to the cross. If I had signed that document, I wouldn't have had that determination hearing and I wouldn't be here today."
The 17-year veteran firefighter also said a coaching form, used as a correction for minor violations of policy, should be enough of a punishment in his case.
Alexander said he requested the affidavit from Leonard in an Oct. 25 meeting, which was after Moncrief's determination hearing with Bowling.
But Alexander said Leonard's story was inconsistent and he didn't have the proper documentation in the Moncrief case. His documentation was a torn piece of note paper that said, "Moncrief refused to work mandatory overtime."
Alexander said the piece of paper and inconsistencies in Leonard's story led to a determination hearing. A determination hearing with the mayor is required when the potential discipline is more serious than can be administered at the department level.
Leonard gave three different explanations when describing why Moncrief wouldn't work overtime, according to Alexander: " 'Children in town,' 'Wife is sick,' and 'I don't remember.' "
Leonard said he and Moncrief are friends and he was aware that the driver's wife was sick. However, he said that when he told his friend before he left, "I've got this," he was only talking about covering a medical call that came in right at shift change on June 26.
"In no way did I relieve him from his duty for (mandatory) overtime," Leonard said. "I was just making sure B-shift had adequate coverage for the call."
In his cross-examination of the lieutenant, Alexander told Leonard he should have done more to get Moncrief to work overtime and he should have initiated Moncrief's discipline.
"After talking to my battalion chief, I realize I could have handled things better," Leonard responded.
Alexander said not providing the proper documentation could hurt the city and taxpayers if the Moncrief issue ends up in court.
Alexander said Leonard's defenses are: "They're picking on me; Chip doesn't do his job (and) ... they're picking on me and not going after other people.' "
Bowling said he reduced the initial proposed penalties to a one-day suspension, a six-month probation and attending leadership classes with the Human Resources Department after talking to an emotional Leonard during the determination hearing.
"I felt Lt. Leonard understood that he could have done things better," Bowling said. "He understood the gravity of his actions so I went with less penalties."
However, Bowling told Leonard during his cross-examination of the mayor that "we're looking for someone to be a leader and you failed."
When Leonard said he doesn't understand why his conduct should earn him a suspension and probation, Bowling replied, "Then we may have a bigger issue. You're the leader; you're a lieutenant."
In his closing, Leonard said he felt he "needed to bring out some inconsistencies" that only a veteran firefighter could do. He said there are several recent instances in which Fire Department leadership isn't following its Standard Operating Guidelines.
One of the violations Leonard said he became aware of recently is command staff reprimanding a firefighter without including that firefighter's lieutenant in the disciplinary decision. He called this a violation of the department's chain of command.
He said another rule is firefighters aren't allowed to work a shift after attending a class, but two lieutenants recently went back to work after a grain bin class.
"I welcome standards," Leonard said. "A shift person should be held to a high standard and so should the command staff."
After the hearing, Fire Chief Tracy Thornton said Leonard should report any violations of Standard Operating Guidelines when he becomes aware of them, and he hasn't done that. He also pointed out the guidelines are not set in stone, so they are not the same as policies.
Leonard also took issue in his closing with the mayor's comments, which he said questioned his integrity.
"The mayor shouldn't have called my integrity into question when he has a (illegal) bed and breakfast," Leonard said.
In November, Bowling admitted he was using his guesthouse in Old Decatur as an Airbnb even though short-term rentals are illegal in this historic district. He shut down the rental property soon after its existence became public.
___
(c)2023 The Decatur Daily (Decatur, Ala.)
Visit The Decatur Daily (Decatur, Ala.) at www.decaturdaily.com
Distributed by Tribune Content Agency, LLC.
McClatchy-Tribune News Service