FEMA official pledges commitment to fire service at FRI
Timothy W. Manning, Deputy Administrator for Protection and National Preparedness, acknowledged the budget issues departments across the country are facing
---
A high-ranking FEMA official pledged the agency's commitment to supporting the fire service during a speech at Fire-Rescue International in Atlanta on Friday.
Timothy W. Manning, Deputy Administrator for Protection and National Preparedness, acknowledged the budget issues departments across the country are facing, and praised firefighters for continuing to serve their community in the same way they always have done.
"It's a difficult job that you have. Unfortunately today's budgetary pressures are making that job just a little more difficult," Manning, a former firefighter, told the audience during Friday's opening ceremonies.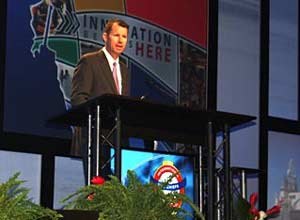 "We are seeing at the national level what you have all been dealing with at local government levels across America.
Manning said various organizations are being asked to do more with less, but that the American fire service will always do as it has done in supporting and serving communities."
During the speech, he went on to highlight the vital role firefighters continue to play in the core part of their mission — fighting fires.
"As you watch the hurricane come up the eastern seaboard of the United States and many of your colleagues have already left to watch and prepare to respond … we know still that fire remains the bigger killer," he said.
"More American citizens are killed from fire than all natural disasters in a year combined. The work you do to protect your communities remains the most important core element of the American government."
Manning told the audience that FEMA would do "whatever we can to support you in your mission to protect our families" and to remember that "FEMA will continue to be there and we have your back."
He added, "As we approach the anniversary of the tragedy of September 11, we remember through the memory of the 343 firefighters who fell that day, the more than 80 who died in the line-of-duty last year and the 90 who died before and the thousands before them the risks that we face, the dedication we have, and the commitment we maintain to our citizens, to our communities, to our friends and families."