Fla. county firefighters urge officials to build more fire stations
It's been more than 10 years since fire officials first warned that Hillsborough County's population growth would exceed their ability to provide services
---
By Anastasia Dawson
Tampa Bay Times
TAMPA, Fla. — It's been more than a decade since Hillsborough County Fire Rescue officials first warned that the county's explosive population growth was outpacing resources for first responders.
At Wednesday's county commission meeting, union officials and dozens of firefighters sounded the alarm yet again.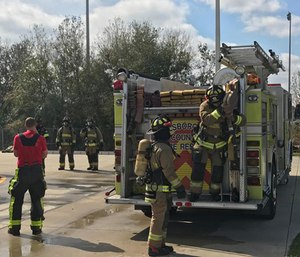 Travis Horn, a spokesman for the firefighters union, told commissioners that "first responders are handling calls at a frenetic pace."
"They're out there day and night,'' he said. "Simply building one fire station over the last decade and rebuilding another is not enough to keep pace with the growth we've seen."
To meet the needs of the current population, Hillsborough County would have to build 30 new fire stations, said Derrick Ryan, president of the International Association of Firefighters Local 2294, which represents Hillsborough firefighters.
"I've been doing this business for 12 years and I have never seen us gather before the board of county commissioners like we're doing today and begging for resources," Ryan said. "We're at that point where we are nervous for the citizens of this county, all over Hillsborough County."
The biggest need is in north Sun City Center — an area that requires 5 new fire stations to meet population growth, Ryan said.
In 2003, when Fire Rescue officials first requested funding to build new fire stations, the department received an average of about 80,000 calls for service every year, Ryan said. Last year, firefighters responded to 110,000 calls, he said.
Only one fire station was built in that time — an additional station in the FishHawk Ranch area.
"That's crazy. we should have had 20 fire stations within that time frame," Ryan said. "We have to keep up with the growth."
Copyright 2019 Tampa Bay Times
McClatchy-Tribune News Service