How volunteer, combination departments can provide EMS
Dan Eggleston, Chief of Albemarle, Va., Fire Rescue outlined why fire-based EMS is a good idea for these departments at Fire-Rescue Med 2011
---
Volunteer and combination fire departments have always faced a range of unique challenges — and, in many cases, these challenges are getting tougher to manage each year.
The issues are well documented:
Difficulty recruiting/retaining members
Increased training requirements
Developing effective leaders
Increase demand on services
Increased scope of services
Declining revenue sources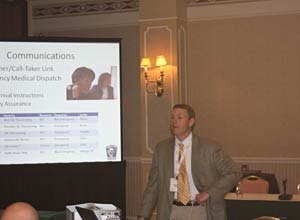 However, more and more volunteer and combination departments are looking to add EMS delivery to the range of services they offer, a topic which was the subject for discussion at Fire-Rescue Med in Las Vegas on Thursday.
Why is fire-based EMS a good idea? It's a question Chief Dan Eggleston, of Albemarle, Va., Fire Rescue answered during his presentation.
"We get asked the question a lot through the Volunteer and Combination Officer Section of the IAFC," he said.
"One of the reasons is that fire stations are strategically located through the community and they're in wonderful locations to provide those services.
"And, firefighters are naturally engaged in the customer response business — we get out and solve problems. Adding EMS to that is a natural fit. Third, most firefighters nowadays have EMS training."
During the presentation, Chief Eggleston outlined the key areas departments need to focus on when moving toward providing EMS.
Specifically, departments need to be aware of what is driving the need — to enhance the current level of service or to replace an existing service.
They also need to determine the level of service, whether transport and/or first response.
During the presentation, attendees were shown the following news clip from Albuquerque, N.M., which Chief Eggleston said is a good example of how a department moves toward providing EMS when demand far exceeds the ability to provide services in their current form — and the issues it can present for them.
"It's a really good example of something that goes to show that part of this business is all about establishing partnerships and operations," Chief Eggleston said of the video.
"It's clearly a stretched system that they had to pull the fire department in to provide EMS, and the local fire department and mayor are trying to figure out how this will work and that there needs to be equity in terms of funding.
"It all goes back to when you have a situation like this of … what type of service are you going to provide the community?
"Who answers that? The elected officials. They have to determine what level of service we are going to have, but how many have an understanding of the difference between an ALS and a BLS provider? Not many."
The session went on to learn about some of the logistics of providing EMS, an area that is more highly regulated than the fire service in many ways, according to Chief Eggleston
"EMS is much more regulated than the fire service in general," he said. "There needs to be more oversight, there's training and continuing education and credentialing, licensure and permits.
"With operational logistics, there's the whole world of PPE and equipment and medical supplies. When you get into some of the equipment costs of ALS, it would shock you guys who aren't ALS providers."
Another area to focus on is communications, Chief Eggleston said — specifically dispatchers and call takers.
"Communications is the very first first responder," Chief Eggleston said. "The information you can gain through the dispatcher/call taker can make the difference between life and death, so a lot of effort, support and focus should be placed on this area."